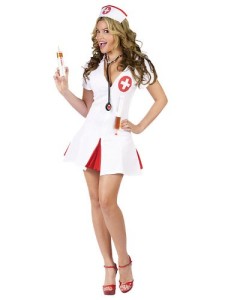 If you are a woman looking for a cute and flirty costume for Halloween, or just to wear for your significant other to keep the romance alive, consider some of these sexy nurse costumes. We're not talking about conservative old fashioned nursing uniforms, but rather something designed to be a little more flirtatious and fun. Amazon.com offers several sexy nurse costumes, ranging from styles suitable to wear to a public costume outing, to those that might be best left to be worn only at home.
Sexy Women's Say Ahhhh! Nurse Costume
Some of the more modest, yet still sexy versions, include this offering from Fun World Costumes. The Sexy Women's 'Say Ahhhhh!' Nurse Costume features a short white dress with slits that expose red fabric in the skirt area. Dress has a round red emblem with white cross on the upper left side. Dress is short sleeved with a V neckline. Costume also comes with nurses hat, reminiscent to traditional nurses caps, featuring a matching red circle emblem with white cross logo. Two plastic "shots" and stethoscope complete the look. This costume would look great combined with high heels in white or red.
Naughty Vital Signs Nurse Costume
Another sexy nurse costume is made by Sofishie, called the Naughty Vital Signs Nurse Costume. This costumes features a short, sleeveless red dress with a white ruffled skirt and white cross logo.  Comes with a white belt that fits around the waist, and a little red nurse cap with a white cross logo. Includes panty and satin bows which can be added to fishnet or thigh high stockings, which are not included with the costume. This costumes does not come with a stethoscope, but the Red Nurse Stethoscope can be purchased as an accessory to complete the look. This stethoscope matches this costume perfectly, right down to the red heart applique with white cross logo.
Naughty Vital Signs Nurse Costume

Hospital Nurse Stethoscope

Sexy Nurse Costume Shoes
Either one of the above costumes would look great paired with a fashionable pair of high heeled shoes. You could opt to wear a plain red or plain white pair, but if you really want to complete the look, these two shoe options are perfect for either costume. The Leg Avenue Women's Jackie Adult Nurse Sandals are a white heel trimmed in red, with a red heart applique near the toes. The red heart features a white cross emblem, keeping in theme with either of the above mentioned costume choices. These shoes have a thin strap and a red and white bow on the back of the shoe. The Funtasma by Pleaser Women's Nurse Platform Pump is another terrific choice. This is a five inch heel in white with red lacy trimmings. Open toe with area just above toes featuring a red ribbon with white cross emblem. Both of these shoes are fun and flirty and will match the red and white nurse costumes to a tee.
Sexy Nurse Shoes

Women's Nurse Platform Pump

Sexy Nurse Bag
If you want a cute accent piece to really make you look the part of the sexy nurse, consider carrying a Hospital Honey Nurse Bag with you for the evening instead of your usual clutch or purse. This plastic carrying case will work well to hold your basic carry along items for the evening, and can later be used as a toy doctor or nurses kit for a child. (Please note that photos on packaging for this item depict a scantily clad nurse, so you may wish to open the package and remove anything of that nature before giving to a child.)
Forum Hospital Honey Nurse Bag

Now your sexy nurse costume is complete and you can have a fun and flirty Halloween or costume party!
(Visited 882 times, 1 visits today)