Hawkeye (Avengers Endgame) Cardboard Standup

Updated for 2019
Hawkeye, also known as Clint Barton, is a fictional Marvel Comics superhero and part of the Avengers team. Hawkeye made his first appearance in the year 1965 and his latest appearance is in the new Avengers movie Avengers: Age of Ultron (2015). Hawkeye is a popular costume choice for both boys and men who want to portray their favorite Avenger for Cosplay or Halloween. Here are some ideas for creating your Hawkeye costume.
Avengers 2 Age of Ultron Child's Hawkeye Costume
This Hawkeye costume is made from 100% polyester fabric and comes with coat with attached shirt front and pants with attached shoe covers. Costume is a purple and black color and has hi-def sublimated printing details to make it look like there are zippers and buckles and other details on the costume. Perfect costume for fighting off the evil Ultron.
Child's Hawkeye Costume

Child's Deluxe Hawkeye Costume

Marvel's Avengers: Endgame Deluxe Hawkeye Quiver, Bow and Arrow Set
What is Hawkeye without his trusty bow and arrow set? Complete your Hawkeye costume with this great bow and arrow in black. This is for the bow and arrow only, costume itself is not included.
Marvel's Avengers: Endgame Deluxe Hawkeye Quiver, Bow and Arrow Set

Adult Avengers Hawkeye Costume
This is a men's costume that includes vest, leg straps, archery wrist guard, glove, and boot covers. Costume colors are black, gray, and burgundy. Made from 100% polyester interlock knit with polyurethane coating. Vest is sleeveless and has Velcro fasteners at the center of the back. Gray pockets and zipper are printed on front of vest, with polyurethane faux leather finish on the shoulders. Boot covers are made from black polyfoam and have elastic bands in the front. Black glove has a webbing strap and mauve palm loop. The archery wrist guard features elastic straps. Add a pair of Hawkeye glasses and a bow and arrow set to make this costume complete.
Avengers 2 Age Of Ultron Deluxe Adult Hawkeye Costume

Avengers Age of Ultron Leather Hawkeye Coat
This is a coat made from high quality faux leather materials and high quality lining. Coat has two side pockets with zippers. Coat is black with red accent areas. Pair with dark pants and black boots to create an authentic looking Hawkeye costume. Click through for views of front and back.
Avengers: Endgame Ronin Costume for Adults
Want to update your Marvel's Avengers Hawkeye costume with the gear from the Endgame movie? Here are five different costumes with everything you need to show off your Clint Barton Hawkeye style.
Avengers: Endgame Ronin Costume

Avengers Endgame Hawkeye Clint Barton Cosplay

Civil War Hawkeye Cosplay

Marvel: Avengers Endgame Deluxe Hawkeye (Ronin)

Avengers: Endgame Ronin Costume

Men's Halloween Walker-130 Boots
These boots in the black color option will make the perfect companion for a Hawkeye costume. Features synthetic materials and man-made sole with rugged tread. Full zipper allows for easy on and off. Boots have straps and something like a leather looking shin guard piece which covers the front of the boot and comes down to wear the shoe part of the boot begins. Great looking choice for a superhero! Boot comes in sizes small through extra large which fits shoe sizes ranging from 8 through 15.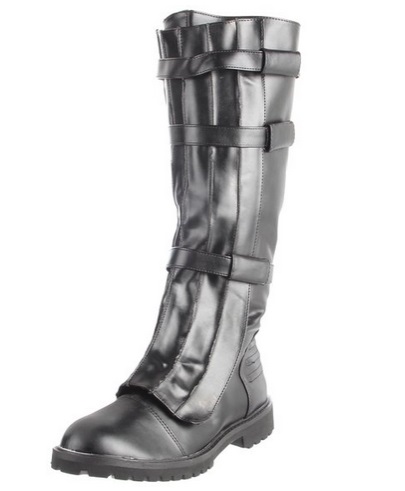 Funtasma Men's Halloween Walker

Men's Faux Leather Trousers
When creating your Hawkeye superhero look, combine these great leather look pants with either the vest or coat mentioned above. Add boots and a bow and arrow for a complete look. Please refer to size chart as sizes given are Asian sizes which run smaller than American sizes. Made from synthetic leather, these pants feature two back pockets, zipper front, and snap closure. Great looking pants for Cosplay and Halloween dress up.
Mens Casual Night Club Pants

More Hawkeye Gear
Updated with all new Marvel Avenger's Endgame gear for Hawkeye, adult or kids. Click through for sizes and other information as well as alternate costume accessories.
Child Hawkeye Avengers 2 Gauntlets

Marvel Avengers Hawkeye Longshot Bow Toy

Adult Hawkeye Gauntlet

Disney Hawkeye Deluxe Quiver

Superhero Halloween Costume

Casual Slim Fit Zip-up Hoodie

Civil War Hawkeye Gloves

Avengers Hawkeye Ronin Sword Replica

Avengers 4 Deluxe Team Suit Costume

Create Your Own DIY Hawkeye Costume
You can create your own DIY boy's or men's Hawkeye costume by using a few simple pieces. A sleeveless leather (or leather looking) vest, black leather look pants, tall black boots, and the dark sunglasses. You can visit thrift shops to see if some of these pieces are available. To add details, such as the purple lenses in Hawkeye's glasses, if you can't find purple lenses, try placing some purple cellophane film over them for an authentic look. If you're wanting to add the colored detail to the vest, in a burgundy or brown color, try referring to a photo of the character and cutting duct tape in the shape of the accent pieces and placing them on the vest. Here are some examples that could be used to make a boys' costume. This pleather Harley Davidson boys' biker vest would work nicely.
PU Pleather Biker Vest

Pair with a pair of boys black leather pants, or even black jeans like these Levi's.
Levi's 505 Relaxed Straight , BLACK

These black rainboots make a great superhero look and are also very practical and can be worn for their intended purpose.
Use this great burgundy colored duct tape to add details to the vest if desired.
Duck Brand 1311061 Color Duct Tape

Combine it all with these great kids' sport sunglasses for a great Hawkeye look.
Child (3-7yr) Gangster Biker Sunglasses

Place a little of this purple cellophane over the lenses to create the unique Hawkeye glasses.
Cellophane Wrap 40″Inch x 100'Ft Purple

Pin this Image to Save this Page for Later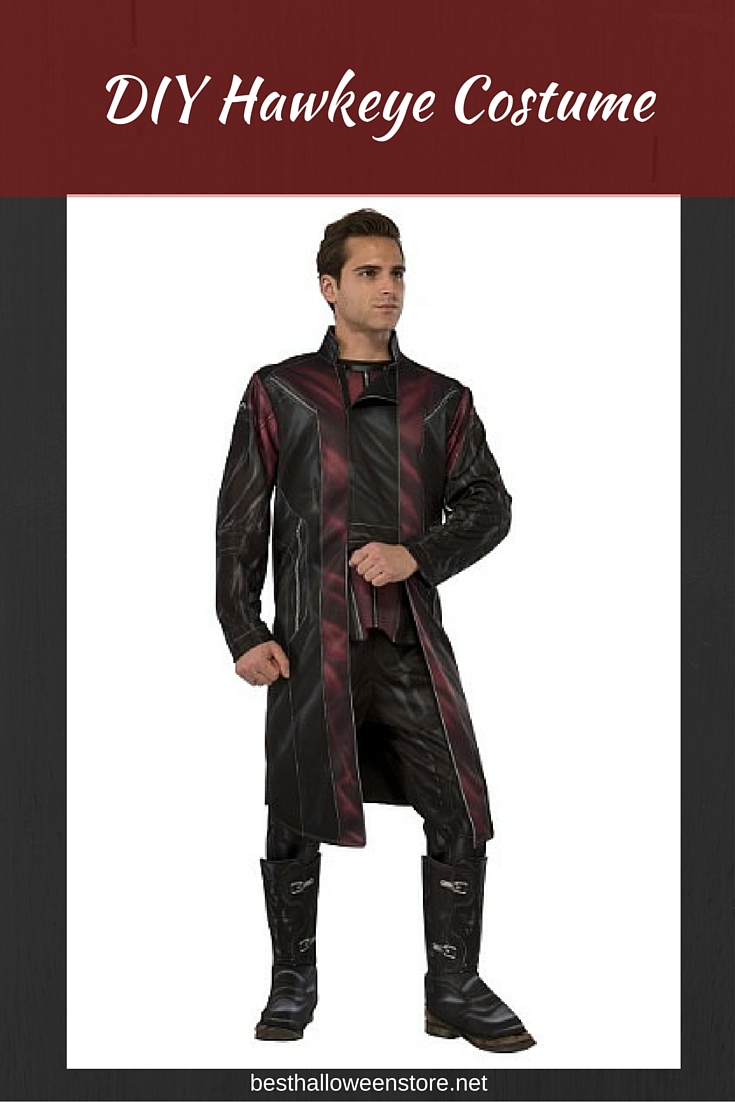 (Visited 3,079 times, 1 visits today)