Gamora is a Marvel Comic book super heroine who first made her appearance in the year 1975. The fictional character was created by Jim Starlin and she possesses super human strength, great agility, and the ability to heal at an accelerated rate. Gamora makes her most recent appearance in the 2014 movie release of Guardians of the Galaxy. With the popularity of the film as well as the fact that Gamora has now been introduced to a new generation of fans, it's not surprising that this super heroine will be the inspiration behind several women and girls Halloween costumes this year. Here are some ideas on how to transform into this strong female character to have some Halloween or Cosplay fun.
Women's Gamora Costume
This Gamora Halloween or cosplay costume is ideal for teens and adult women who want to get into the Gamora character this Halloween. This costume features and 100% polyester jumpsuit that is black and electric blue in color and has a subtle animal print on it. Fingerless gloves fit over hands and come several inches up the arms. (It is unclear if the green "skin" on the model in the photo is part of the jumpsuit or not, but if not, simply wear a form hugging plain green shirt underneath the jumpsuit.) Pair this great costume with a Gamora style wig and some knee length platform black boots for a complete and authentic Gamora look, perfect for Cosplay or Halloween dress up fun.
Guardians Of The Galaxy Gamora

Gamora Deluxe Costume for Kids
For the younger Gamora fan, this costume comes in sizes small (4-6), medium (7-8), and large (10-12). The jumpsuit features an attached belt, pair of glovelettes, boot covers, and a detachable collar. The jumpsuit includes the green "arms" and chest area that match Gamora's skin tone. Jumpsuit is black and electric blue with cool animal print. Pair costume with black shoes.
Gamora Costume Makeup Kit
We've all heard of "going green", but when it comes to portraying Gamora from Guardians of the Galaxy, it means something a little different. Gamora actually has green skin! To make your Gamora Cosplay or Halloween costume look more authentic, this green make up can be applied to clean, dry skin so you can get your best Gamora look going on. Apply green cream makeup to the face and any uncovered areas you may have on the arms or chest and neck area to really pull your whole look together.
Women's Gamora Wig
This 100% polyester synthetic purple wig is the perfect addition to make any Gamora costume complete. Long deep purple hair has loose curls and is one size that will fit most teens and adults. Add this great wig to your costume and green makeup, and transform yourself into a super heroine for the night.
Long Wavy Purple and Pink Gamora Wig
This is another Gamora wig that closely resembles the character's hair in the popular 2014 Guardians of the Galaxy film. Wig is synthetic and starts out purple at the roots and gradually becomes a deep pink color. Great for use in Cosplay.
Sexy High Heel Boots
These black platform boots have two and a half inch high heels and sexy straps that wrap around them with a buckle near the top. Boots are lines and zip up on the side. Great accessory for any women's Gamora Cosplay or Halloween costume, and can be worn throughout fall and winter with jeans, pants, dresses, and skirts as a great addition to your wardrobe as well.
Kids Motorcycle Boots
These black boots are the perfect compliment to any little girl's Gamora Halloween costume. Sensible heels for young trick or treaters still look fashionable and go great with the costume. Made from synthetic leather and features zippers and buckles. Great looking boots are both fashionable and functional and can be worn long after Halloween is over with dresses, skirts, jeans, pants, and leggings.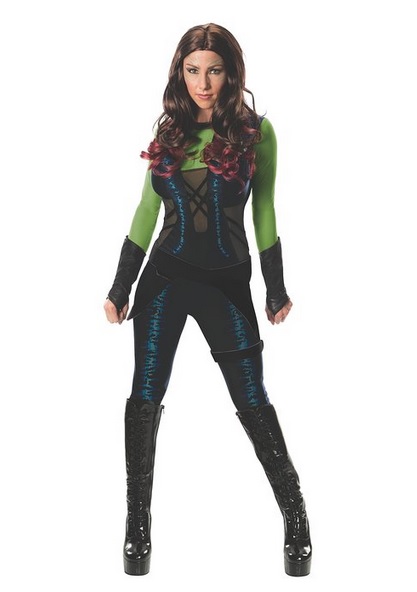 (Visited 648 times, 1 visits today)