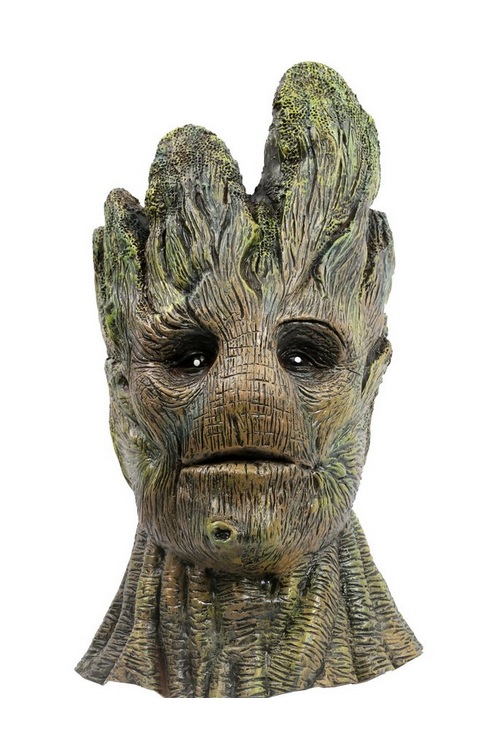 Groot is a fictional superhero character that first made his appearance in Marvel Comics in November of 1960. He is an extraterrestrial being, who resembles a tree. Groot's first role in the comics was as an invader whose original intent was to capture human beings for purposes of experimentation. However, in 2006, Groot took on a more noble and heroic role in his appearance in a crossover storyline in a comic book called " Annihilation: Conquest", which then led to the spin off series known as Guardians of the Galaxy. Actor Vin Diesel portrays the Groot character in the Guardians of the Galaxy film, released in 2014. Here are some helpful tips for putting together your own Groot costume for Halloween, Cosplay, or other dress-up fun.
Rocket Raccoon & Groot: The Complete Collection

Men's Deluxe Overhead Groot Mask
Deluxe Adult Overhead Groot Mask

This incredible Groot mask is an officially licensed product made from 100% polyester. Mask can easily be hand washed and one size will fit most teens and men. Inspired by the hit movie Guardians of the Galaxy, this mask will make anyone look like Groot with it's brownish- green color. Mask has openings for eye holes, and a little bit of face paint could be applied carefully around the eyes (but not too close to the eyes) to make the skin less noticeable. Texture of mask resembles the trunk of a tree and looks like bark with green lichen growing on it. When mask is not in use, stuff with packing paper or old newspaper to help it retain shape during storage.
Marvel Groot Mask
With this Groot mask, you can make like a tree. Just add some brown clothing, some floral craft ivy from a craft store and wind it around your clothing. All you will have to say all night is "I am Groot." Made from rubber latex, this mask is 11 inches x 11 inches x 15 inches tall.
Men's Groot Costume Hands
This pair of latex costume gloves will fit most teen and adult sizes. Gloves are an officially licensed product that can be easily hand washed if needed. Gloves resemble tree branches and have the texture of bark, with green climbing vines encircling them. Combine with the Groot over the head mask for an authentic look. Perfect Halloween costume for any Guardians of the Galaxy fan.
Groot Creature Reacher Costume
Groot Creature Reacher Costume

I am Groot. Wow the crowd in this officially licensed guardians of the galaxy Groot creature reacher costume. Includes mask, robe, and oversized Groot gloves. You get the entire package in one set and you are ready to spend Halloween with your own Rocky the Raccoon.
Groot Over Head Smile Helmet Mask
Groot Over Head Smile Helmet Mask

This is a custom sculpt, and this mask is absolutely GORGEOUS! Looks so much more lifelike than the Rubies mask! Very high quality sculpt and latex mold, and the paint job is amazing! Very lifelike, and the detail is amazingly lifelike.
Child Groot Costume and Mask
This 100 percent polyester costume comes complete with a mask, ready to wear for Halloween. Kids can wear it for trick-or-treat, to a party or just for fun. Officially licensed by Marvel for Guardians of the Galaxy fun.
Adult Groot Costume and Mask
Adult Groot Costume Top and Mask

This Groot adult costume and mask can be worn with camo overalls shown below or brown pants for Halloween fun.
Groot 3/4 Adult Mask
If you don't like the overhead masks, this is a good compromise. This 3/4 mask allows more air to come in and is easier to take off and put back on for pictures with your Guardians gang.
Camo Overalls
You can make your own DIY Groot costume with these overalls and a Groot mask. These overalls are done in a camouflage in dark browns and greens which will go well with the Groot mask and gloves. Camo print also features tree branches and bark and leaves and vines, keeping right with the "tree-like creature" theme. After Halloween, overalls can be used for outdoor recreation, hunting, shoveling snow, or doing yard work on a chilly autumn day. Great way to multi-purpose an item after it has been used as a costume.
I Am Groot Tee Shirt
I Am Groot T-Shirt (Rocket's Buddy)

If you don't want to do the coverall option, this simple tee shirt isn't quite as authentic looking, but still gets the point across. Combine it with the Groot mask and gloves to make up your costume. Tee shirt is made from 100% cotton and features a screen print with white lettering that reads I AM GROOT. This tee shirt is available in three color options: black, chocolate brown, and navy blue. Machine wash in cold or warm and hang to dry.
Guardians Of The Galaxy Licensed Graphic T-Shirt
Marvel Comics Guardians of the Galaxy Licensed Graphic T-Shirt

This graphic tee is made from 100% cotton and comes in several colors with about 20 images available. I couldn't show them all here, so click through to browse them. Print of shirt is done in white against the black background. Comes in adult men's sizes ranging from small to XX-large. Combine this shirt with the Groot mask and gloves for a fun Halloween costume.
(Visited 1,468 times, 1 visits today)