Dressing Baby for Halloween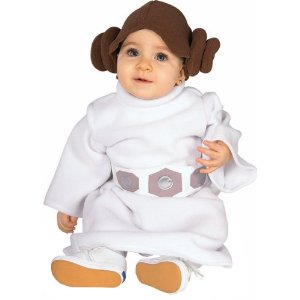 No one is too young to dress up in a Halloween costume and join the rest of the family at their annual Halloween party or Halloween Trick or Treat. Here are some adorable infant and toddler Halloween costumes for the youngest member of your family.
Dressing up in costume for the Halloween celebration is one of the best parts of the Halloween holiday, and there is no reason to leave out your infant or toddler from the Halloween costume fun. Depending on what the family Halloween costume theme is this year, your infant or toddler can dress up as just about any costume that an adult can wear for Halloween.
Infant and toddler Halloween costumes run the gamut from baby bunting costumes, animal costumes, famous movie hero costumes, birds, bugs, and butterflies, as well as vampire bat costumes.
Infant and toddler Halloween costumes are sized in regular infant sizes like 0-6 months, 6-12 months, 12-18 months, and toddler sizes 2T – 4T, so that you can get a Halloween costume that really fits your child. The listed Halloween costumes for infants and toddlers on this page are just suggestions, and if you click through to the Amazon page, you will see more recommendations as you scroll down each item page.
I am sure you will enjoy laughing and browsing these precious infant and toddler Halloween costumes.
Newborn Lobster Costume

Newborn Tiger Costume

Halloween Costumes for Newborns
There are several very cute baby bunting type costumes for infants 0 – 6 months. I have to say that my personal favorite is still the Peas in the Pod costume which is more traditional, but dressing your newborn up as a mermaid or a butterfly is also very cute.
These baby bunting costumes will feel snuggly and warm to baby, keeping them comfortable while you can show off junior (or junior miss) to your friends.
Another great feature of the baby bunting type Halloween costumes for infants is that changing a diaper is as simple as a zipper and sliding baby out of the bottom of the costume.  No messy snaps and legs to get in each time.
 Newborn Angel Wings

 Newborn Turtle

 Infant Bunny Costume

 Mickey Mouse

Once your baby is moving around, crawling or walking, it is best to find a Halloween costume that is easy to move in and is comfortable.
Most of the infant toddler costumes are build for activity with detachable hats or hoods, and easy one piece body suits for babies and toddlers to crawl, walk, and run.  The infant toddler costumes are soft and comfortable for your child's skin, and easy to put on and take off just like other baby clothes, so that basically they are just a fancy outfit for baby.
If you think your baby or toddler will not tolerate a hat or hood, then get a Halloween costume without a head piece.  This way you won't have to worry about constantly taking it on and off and about possibly losing it.
Newborn Dragon Costume

Pinky Winky Monster

Infant Monster Costume

Toddler Halloween Costumes 2T – 4T
Once your child gets to toddler size, they will want to pick out their own costume.  Luckily, there are lots of cool toddler Halloween costumes from cute to cute scary.  There are several toddler superhero Halloween costumes such as Spiderman (a toddler favorite), and also vampires, skeletons, as well as many princess and Cinderella costumes.
By the time your child is a toddler, they will need a lot of comfort and room to run and play, so find a costume that has a separate top and bottom making it easy to go to the bathroom, comfortable fabric, and an elastic waistband.  This way your toddler will be able to move around easily in their costume, and won't be fussing over how it feels.
Toddlers love to play pretend, so having a Halloween costume will be right up their alley, and they will have a great time pretending to be (fill in the blank here) whatever character you decide to choose.
 Spiderman Toddler

 Supergirl Toddler

 Ahoy Matey Pirate

 Shark Romper

 Tinkerbell Costume

 Buzz Lightyear

 Frozen Olaf

 Sock Monkey Costume

(Visited 251 times, 1 visits today)