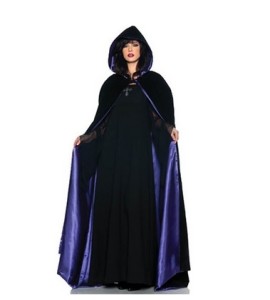 Maleficent is a character from the 1959 Walt Disney movie, Sleeping Beauty. The character is known as the self-proclaimed Mistress of All Evil, and she is one of the most recognizable Disney villains. Maleficent is the one responsible for placing the curse on Princess Aurora in Sleeping Beauty and was also the main character in her own 2015 major motion picture, entitled Maleficent. Due to the popularity of the film, Maleficent is a popular costume choice for costumed dress up occasions and for this coming Halloween. Here is everything you need to create the perfect Maleficent costume.
Featured: Deluxe Velvet and Purple Satin Long Cape
Deluxe Hooded Robe Costume by California Costumes
This hooded costume is the perfect Maleficent dress. Made from 100% polyester, this dress has lace up ties, and a robe with attached hood. Perfect costume for getting yourself into character. Plus size options of this adult costume are also available. Center of dress is a beautiful purple color, while the sides are black. Sleeves and hood are both lined with purple fabric. This is the perfect staple piece for a full Maleficent look.
Deluxe Velvet And Purple Satin Long Cape by Underwraps
This black hooded velvet cape with purple satin lining is perfect to go along with the hooded robe dress. This would make an especially nice addition to a Maleficent costume for Halloween if you plan to be outdoors on a chilly October evening.
Black Wig Cap by West Bay Inc.
This black wig cap will help to conceal the hair and keep it out of the way so that you can don the Maleficent headpiece. It is lightweight, well ventilated, and comfortable to wear.
Disney's Maleficent Dark Fairy Wings by Jakk's Pacific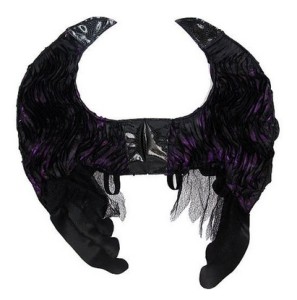 These awesome looking dark fairy wings are purple and black and feature a twenty inch wing span. Arms fit through elastic on the back of the wings. The tips of the wings are shiny. Makes a perfect addition to the hooded dress costume to really complete the evil queen look.
Featured (right): Disney's Maleficent Dark Fairy Wings
Women's Disney Maleficent Movie Deluxe Horns by Disguise Costumes
No Maleficent costume is complete without the trademark black headpiece. These horns are made from 100% vinyl and come in a one adult size fits all. Made from 100% shiny black vinyl. Place headpiece over the wig cap for easy fitting and wearing. Place this headpiece on and instantly slip into character.
Women's Disney Maleficent Movie Adult Staff by Disguise Costumes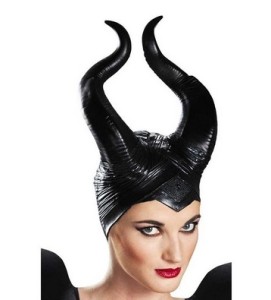 This fifty-six inch long staff comes in two pieces that can be assembled and then taken apart for storage. The staff closely resembles the staff from the movie and makes a great prop and the perfect addition to any Maleficent costume. Looks like a gnarled piece of wood with a glowing orb at the top. Staff is not for support so it should not be used as an actual walking staff or cane.
Featured: Disney Maleficent Movie Deluxe Adult Horns, Black, One Size
Maleficent Gloves And Ring by Disguise Costumes
These black, fingerless gloves and Maleficent ring come in one size fits most. Made from shimmering black fabric that will coordinate perfectly with the hooded costume dress and cape. The perfect accessory for any evil queen or costumed lady on a chilly October evening.
Disney 3-Piece Maleficent Dress, Stay Up Collar, And Head Piece by Leg Avenue Costumes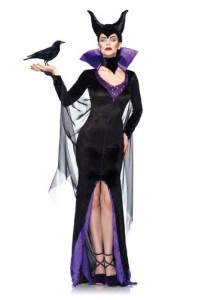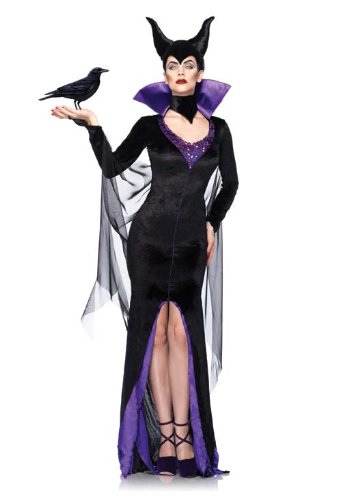 If you do not want to purchase all of the pieces to create your Maleficent costume separately, you can choose an option like this three piece set. Includes the dress, headpiece, and collar. Dress is black with a front slit that come a few inches above the knees. Collar is purple and stands up around the neck. Sheer fabric hangs from the long black sleeves to give the dress an authentic evil queen look. Dress is made from 100% polyester and is an officially licensed Disney product.
Featured: Disney 3Pc.Maleficent Dress Stay Up Collar and Head Piece, Black, Medium
Women's Maleficent Movie Christening Black Gown by Disguise Costumes
Another pre-assembled choice, this dress is all black and includes a sculpted brooch and horn headpiece. Sleeves are very large and expand and hang down. Simply pair this dress with a staff and some black boots or shoes and you will have a complete Maleficent look. Dress is made from 100% polyester and has a textured look on sleeves and bodice. Hem edging on dress is several inches long and has a scalloped edging along the bodice, and a smooth edge along the actual bottom of the dress.
(Visited 693 times, 1 visits today)