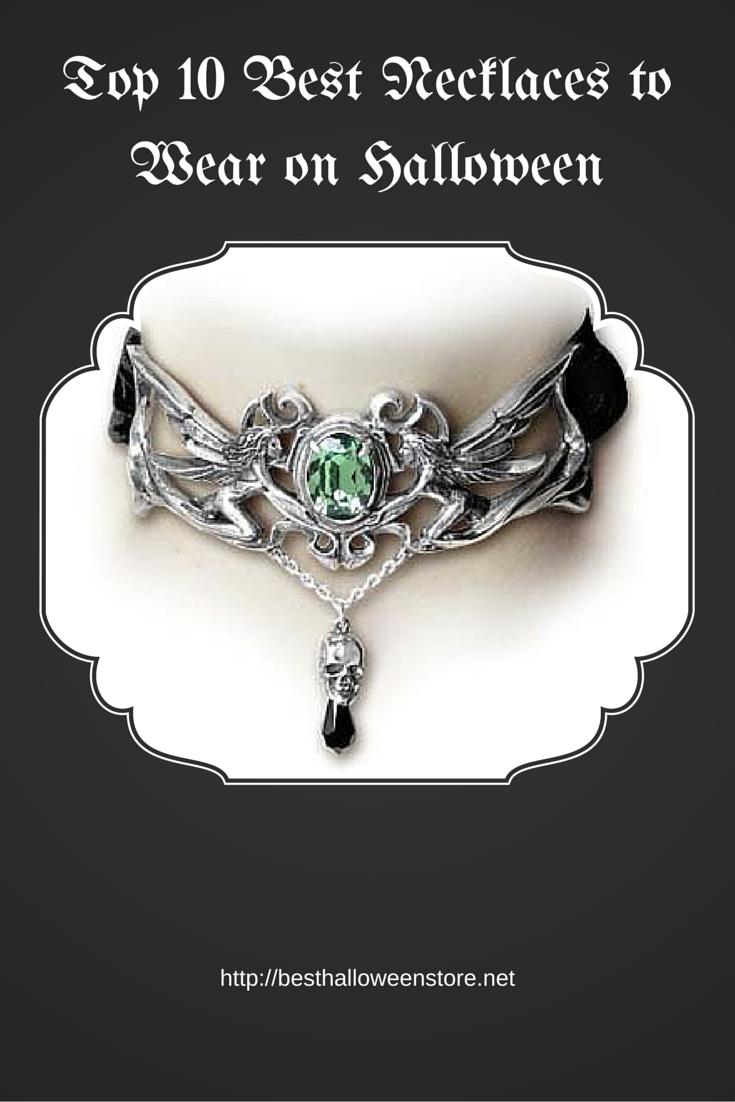 After Much Extensive Research, These are My Top 10 Picks for Best Necklaces to Wear on Halloween
Every year, I like to take a look at the new necklaces that are available to wear in October for Halloween. Halloween is one of the holidays that I find most fun, and extending it throughout the month of October with a cool necklace or two keeps my spirits up until the big Halloween bash on the 31st.
I scour the selections for a good representation of what is available, and this year's selection of the top 10 necklaces appropriate for children and adults for this holiday season is listed here with a few reasons for my choices. Some of these necklaces are perfect to wear to your neighborhood trick or treat or Halloween party, and others are a bit more of a gothic nature.
Whichever style you prefer, I am sure that you will find the perfect necklace for you on this list. And if you don't, you can go directly to Amazon via the links provided to search yourself to find a better Halloween necklace.
Although Halloween only comes once a year, it is a holiday where we can let go, have fun, and just enjoy. Happy Halloween to you!
Of special note this year is my #1 choice pictured at the top of this page. Of course, you do not have to wear it only on Halloween. It's gothic vibe is evident, yet is has a delicacy that makes it lovely with a Victorian-style outfit. I also like the spider-web feel. Therefore. . .
#1–My very first choice is the necklace pictured above, the La Fleur de Baudelaire Gothic Choker style Necklace. I mean, really, have you ever seen a better Halloween necklace? Classy, regal and beautiful, perfect for the season.
La Fleur de Baudelaire Gothic Necklace

What is Goth?
[youtube]https://www.youtube.com/watch?v=mQb4rQm-7_M[/youtube]
#2–Spider Web Necklace
This necklace would look great if you are wearing a scoop neckline dress or gothic outfit for a Halloween party. If you click through, you will find some earrings to match.
#3–Children's Necklace and Earring Set
Halloween Children's Necklace & Earring Set

Perfect for kids, this Halloween children's necklace and earring set are inexpensive, and fun, perfect to wear on Halloween. Since kids love jewelry, and you don't want to spend a lot on their clothing and accessories, these necklaces work great. They are affordable and fun, and if they get lost, you won't freak out.
#4–Skeleton Necklace Grinning with a Pumpkin–Love This!
Such a cutie-pie skelly necklace, for children and adults, this grinning skeleton was on the list last year as well. There are a few versions of this necklace which can be seen after you click through the link. How can you pass this one up, he is grinning so mischieviously.
#5–Halloween Flashing Necklace
Flashing Pumpkin Beaded Necklace

To keep track of your collection of spooks and goblins in the dark while trick or treating, this flashing pumpkin necklace is a must. Kids will love wearing them, and you will be able to see them in the dark without a problem. And they are cheap to buy so that when they stop flashing, you can throw them away.
Flashing light necklaces are loads of fun for kids and adults, and these can be handed out at a Halloween party to add to the ambiance.
#6–Sterling Silver Amber Halloween Spider Pendant
Sterling Silver Amber Spider Pendant

This stunning simple, amber and sterling silver necklace is a lovely gift for anyone who loves spiders. It can bring good luck and amber has all sorts of mystical properties including that it warms to the body heat.
The simplicity of this necklace is part of its charm, making it a good choice for a teen or petite-size person. Unisex.
#7–Gothic Vampire Bat Pendant Necklace Halloween Jewelry Accessory
For witches and warlocks, this pewter hanging bat is perfect for Halloween! It won't tarnish, and will stay beautiful year after year. It is a perfect depiction of this gothic and spooky animal, which can be worn by men and women alone or with a costume. It would especially sharp on a black outfit or black with silver studs.
#9–Light Up Halloween Flashing Pumpkin Necklace
Gotta have one of these flashing light-up Halloween necklaces. With this necklace, the pumpkins light up and flash all the way around your neck. This necklace is perfect for a party or trick-or-treat giveaway or prize for dunking for apples. Very cheap to buy, you won't break the bank with these.
#10–Halloween Witches Cat and Bats Glass Tile Pendant Necklace with Black Chain
Witches Cat & Bats Tile Pendant

Last but not least, #10 is a very fun black cat silhouette necklace that comes with its own chain. Appropriate for kids or teens, it definitely evokes the Halloween spirit.
Halloween Safety Tips
[youtube]https://www.youtube.com/watch?v=koVKsEbYlnA[/youtube]
(Visited 427 times, 1 visits today)