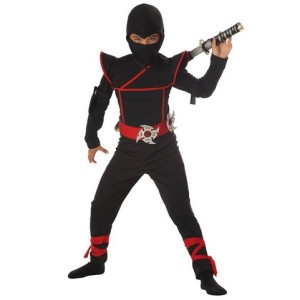 A ninja is a person who is trained and skilled in the ancient Japanese martial arts. They are known for their ability to conceal themselves and move very stealthily. Ninja costumes have become very popular for both dress up play and Halloween. There are many different ninja Halloween costumes available online, whether you want to purchase a whole pre-made costume or use some clothing you already have and accessorize. Ninja costumes come in all sizes from toddler, to child sizes, to adult, so be sure to look for smaller or larger versions of the items listed below if needed. Here we take a look at what you need to make a great ninja Halloween costume.
Stealthy Ninja Kids Costume
California Costumes Stealth Ninja

This costume provides a jumpsuit with attached hood, ties for arms and legs, face mask, and belt. Two foam stars are also included. For the complete ninja look, add some plastic "weapons", and perhaps ninja gloves and boots.
Dragon Ninja Weapon Set
Dragon Ninja Backpack Weapon Set

Every ninja needs his weapons.This plastic dragon ninja weapon set comes with two ninja swords and two ninja knives. Items can be conveniently carried and stored in the four weapon backpack. Adds the perfect touch to complete any ninja costume.
Ninja Gloves
These ninja gloves are made from black cloth fabric and measure around eight inches in length. Features a gold dragon and sword emblem for an authentic look. Little ninjas will love these gloves, and they can also be used as regular gloves on chilly autumn days. Adds a very nice touch to complete a ninja costume.
Heavy Ninjitsu Gauntlets
These are actual gauntlets for those who practice Ninjitsu, but could be used as part of an adult Ninja Halloween costume. They are specially designed with Velcro wrist fastener and heavier finger loop. These could be combined with an actual Ninjitsu uniform, or with a long sleeved black shirt and comfortable black sweat pants to make a do it yourself ninja costume. Add a mask, gloves, and black shoes or boots and you'll have an authentic looking costume.
Black Ninja Tactical Mask
This is an adult sized cap made from comfortable acrylic knit. Can be used as a ski mask, cold weather hat/mask, or to create a homemade ninja costume. One hole design looks more authentic for use as a ninja than the two eye hole style masks.
Ninja Stealth Face Ski Mask
This ninja hood is another great find for an adult trying to create a ninja Halloween costume. Hood comes in a one size fits most, is made from 100% lightweight acrylic that is both wind and water resistant. An inexpensive hood to help make anyone a ninja.
Ninja High Top Tabi Boots
These are actual ninja shoes for those who practice the martial arts, but also make the perfect authentic accessory to any ninja costume. Boots feature non-slip rubber soles, Velcro closure, and are made from soft canvas fabric. Provides secure footing and super quiet steps. Split toe style will really make you look like a ninja. Combine with black, loose clothing, gloves, and mask for a total ninja look.
Rubber Ninja Stars Costume Accessory
These ninja throwing stars come in a package of three and are made from rubber foam for safety during play. The perfect accessory to complete any ninja costume.
Costume Toy Nunchucks
These toy nunchucks are made from hollow black plastic and the silver chain is also plastic. Great for a costume prop and not really designed to be a toy that really lasts very long.
Men's/Women's Adult Ninja Costume
This adult ninja costume is suitable for either adult males or females and includes a black jacket and pants made from a cotton blend. Jacket and pants have arm and leg ties and attached belt closes the jacket in the front. Costume includes knit face mask that stay secure with elastic and a matching black hood. Complete your ninja look with some accessories and perhaps some gloves and boots for an authentic look.
More Ninja Costumes
Adult Ninja Costume

Green Ninja Costume

Mirror Ninja Costume

Ninja Master Costume

Snake Eyes Costume

White Stealth Ninja

Stealth Ninja Costume

Boys Ninja Costume

Special Ops Ninja

Mortal Kombat Scorpion

(Visited 892 times, 1 visits today)