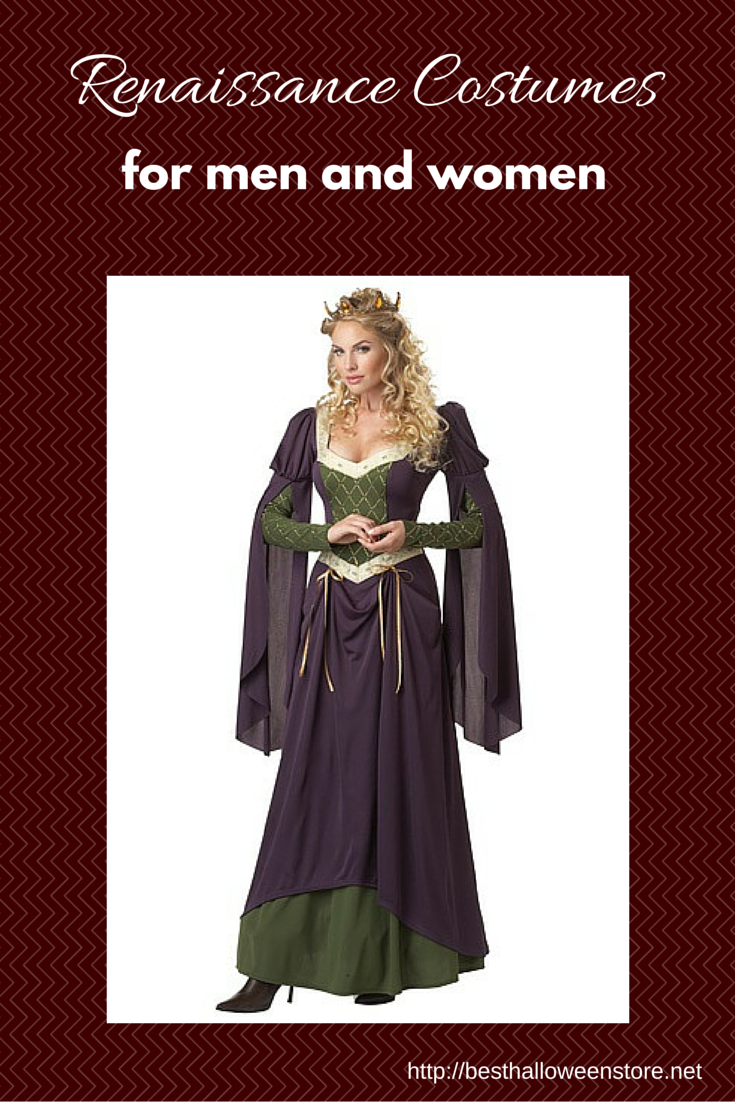 The period of time starting from the 14th century through the 17th century is known as the Renaissance. This era is considered to be a bridge of time between the Middle Ages and modern history. During the Renaissance, there were distinct fashion styles for both men and women. To this day, people still love dressing up in these romantic female styles and distinguished gentleman's fashions. Renaissance costumes for men and women make the perfect attire when attending Renaissance fairs, or when dressing up for Halloween or Cosplay. Here we look at some great Renaissance costumes for both men and women.
Renaissance Romantic Dress
This dress can be embellished for cosplay or a Halloween costume, or even going to your favorite Renaissance Faire. It is available in several beautiful colors and is cut in the ideal shape for building your Renaissance look. A great investment if you love wearing costumes for parties and events.
Victorian Renaissance Romantic Dress
&
Lady In Waiting Costume
This costume comes in sizes small, medium, large, and extra large. Dress is made from 100% polyester interlock knit fabric in purple with olive green underskirt, bodice inset, and under sleeves. Features white and gold brocade ribbon accents around neckline and waist and puffed upper sleeves with flowing drapes covering under sleeves. Costume is also available in plus sizes. Includes painted metallic gold latex crown with faceted faux jewels. Pair with black Victorian style boots for a great Renaissance look.
Renaissance Lady Costume
This beautiful purple Renaissance costume is available in sizes adult standard, small/medium, and medium/large. Additionally, sizes X-small, and X-large are currently out of stock, but are expected to be back in stock in late July. This particular costume is also offered in plus size. Dress is a dark purple color and reaches the floor. Features gold ribbon lacing on bodice, and green and gold brocade ribbon accents on sleeves, center front, and neckline. Made from 100% polyester velvet fabric for an authentic regal look.
Men's Renaissance Peasant
This costume comes in a "one size" option and includes shirt, pants, and hat. Made from 100% polyester fabric. May be hand washed and laid flat to dry. Shirt is a creamy white color, with brown pants and matching brown hat. Pair with high brown or black boots for a great Renaissance look.
Women's Renaissance Maiden Costume
If you're looking for elaborate Renaissance costumes, this beautiful 100% polyester, machine washable dress fits the bill. Dress is a beautiful burgundy with contrasting gold fabric. Features long sleeves with puffed shoulders, square neckline, contrast trim on bodice, and split skirt with contrasting gold underlay. Sleeves have finger loops and dress also include a matching headpiece with veil. Be the best dressed maiden at the Renaissance fair, Halloween party, or Cosplay event. Costumes comes in sizes ranging from small to XXX large.
Renaissance Man Costume
As one of the Renaissance costumes for men, this set includes a tunic/shirt combo, cropped pants with attached boots tops, and a shoulder sash for a complete look. Made from 100% polyester velour, faux leather, and gauze. Tunic is a gray velour with cream colored gauze sleeves. Pants are charcoal colored and feature an elastic waist and brown velour boot tops. Faux leather sash is backed with felt. Makes the perfect attire for Cosplay, Halloween, or when attending Renaissance events. Use the handy fit finder feature to determine correct sizing for this costume.
Women's Renaissance Wench
This costume comes in sizes small through extra large and is made from 100% polyester interlock knit fabric, faux leather, and brushed flannel. Cream peasant blouse has elastic at neckline and on sleeve cuffs. Features burgundy skirt with dark green corset inset combination. Skirt has an elastic waist and opening in the front and features tired burgundy fabric and green ruffles around the hem area. Costume includes head scarf.
Tavern Man Costume
This men's costume is available in sizes medium, large, and extra large and includes a shirt/doublet combination and pants. Made from 100% polyester velour and features faux leather and metallic trim. The shirt has white sleeves and doublet is a dark green color with placket edges, faux leather, and brown cord lacing. Hem and shoulder edges of doublet have gold metallic ribbon. Pants are brown and have an elastic waistband and cord calf ties. This costume is also offered in plus size. Pair with boots and a Renaissance style cap for an authentic look.
Tavern Maiden Costume
One of the more authentic looking Renaissance costumes, this tavern maiden look is available in sizes ranging from extra small to extra large. Made from 100% polyester faux suede fabric and interlock knit which can be hand washed. Bodice is brown and made from faux suede, with cream colored sleeves and inset. Corset features gold satin ribbon. Skirt is double layered with a brown and olive green striped pattern on the underskirt, with solid colored green overlay. Costume has a faux leather belt with plastic buckle. This costume is also available in plus size.
Easy DIY Renaissance Dress Tutorial
This is a step by step tutorial for making your own Renaissance style dress that is something like Juliet or Guinevere might wear. This dress was inspired by a Pinterest pin and the link for the pin is included. An ideal pattern for those with minimal sewing skills. With a little pinning, cutting, measuring, and sewing, you can create an authentic looking dress worthy of wearing to a Renaissance fair, or for Halloween or Cosplay. Dress has long, flowing sleeves and scoop neckline.
Easy Renaissance Style Skirt DIY Tutorial
This is a simple gathered skirt that is made with two yards of fabric. This video takes viewers through the step by step process of creating the skirt with a drawstring waist. This skirt makes a great foundation for creating an entire Renaissance style costume.
DIY Off The Shoulder Peasant Blouse
This is a tutorial that uses a men's button up shirt to create a Renaissance style peasant blouse. The step by step process involves cutting off the collar of the shirt and the cuffs of the sleeves. Because you are going to be cutting the shirt, this would be a great project to do using an inexpensive shirt from the thrift store. Combine shirt with a peasant style skirt and corset for an authentic Renaissance look.
Article publié pour la première fois le 21/07/2015
(Visited 442 times, 1 visits today)