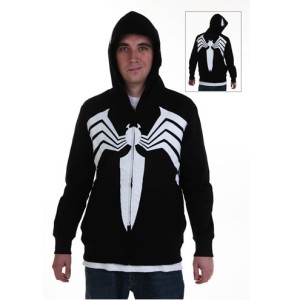 Spiderman is a fictional character that made his debut in Marvel Comics in 1962. Spiderman is the crime fighting, superhero alter ego of freelance photographer, Peter Parker. When trouble is near, Parker's "spider senses" are triggered, letting him know that the services of Spiderman are needed. Spiderman possesses superior strength and agility, and can shoot spider webs from devices mounted on his wrist known as web-shooters. He also has the ability to cling to almost any surface, much like a real spider can.
Spiderman has been featured in tons of comic books, been the subject of major motion pictures, and can be found gracing the surface of everything from lunch boxes to apparel. The popularity of Spiderman remains as strong today as it was since his introduction in the sixties.
With being such a cool superhero, it's no wonder that both little boys and even adult men still like to dress up in his likeness today. From costume parties, to Halloween costumes, to simply little boys being boys, Spiderman costumes and apparel are readily available so that your favorite guy, no matter how big or small, can portray their favorite superhero for the day.
 Venom Zip Mask Hoodie

 Venom Zip Hoodie

 Venom Zip Mask Hoodie

 Venom Grin Zip Hoodie – Large

For The Littlest Spiderman In Your Life
The Baby Spiderman Costume lets even the tiniest fan get in on the action. Blue and red outfit is made from 100% polyester interlock knitted fabric and has a Velcro closure in the center of the back. Features the classic spider and web print on the chest area. Separate hat has red spider web design. Little black and white mask adheres to the hat with Velcro fasteners.
Infant Spider-Man Kutie Costume

Your pint-sized web slinger will look sharp in the Infant Spiderman Kutie Costume with red and blue cotton and polyester blend jumpsuit with spider and web design. Jumpsuit closes in the back with Velcro. Convenient snaps in the inner leg area allow for easy diaper changes. This Spiderman costume has a matching headpiece that attaches under the chin with Velcro. The Spiderman eyes are on the headpiece of this costume so that the child's face remains unobstructed.
 Child Spiderman Gloves

 Folding Spiderman Treat Pail

 Spiderman Trick-or-Treat Bag

There are also some cute accessories to go along with these costumes, such as the child Spiderman gloves, the Spiderman treat pail, and the Spiderman trick-or-treat bag.
More Infant Spiderman Costumes
 Spider-Man Infant Costume

 Amazing Spider-Man Costume

 Spiderman Toddler Costume

 Spider-Man Muscle Costume

 Spider-Girl Kutie Infant

 Spider-Man Bunting Infant

 Spider-Man Kutie Infant

 Spiderman Deluxe Infant

 Newborn Costume Spider-Man

 Baby Spiderman Onesie

Kids' Spiderman Costumes
Kids Deluxe Muscle Spiderman Costume

For the slightly older child, the Kids Deluxe Muscle Spiderman Costume is a great choice. The 100% polyester knit jumpsuit is stuffed with fiberfill to make it look like Spiderman has bulky muscles in the shoulders, arms, and chest areas. Comes with a hood that covers the entire head and face. Red spider and spider web print on inset panel, sleeves, and part of leg area from knee down.
Spider-Man Muscle Light Up Costume

The Boys Ultimate Spiderman Muscle Light Up Costume features a classic Spiderman jumpsuit made from 100% polyester and a hood with mesh eye holes. The costume is padded so that Spiderman has muscular arms and torso, and the spider logo on the chest lights up.
Spiderman Light-Up Web Shooter

A fun accessory to go with a Spiderman costume in this age range is the Light Up Web Shooter. Comes in a set of two so that they can share one with a friend.
More Kids' Spiderman Costumes
 Spiderman Muscle Costume

 Reversible Spider-Man

 Amazing Spider-Man 2

 Spider-Man Child Gloves

 Spider-Man Child Gloves

 Black Spiderman Costume

 Spider-Man Boot Covers

 Spider-Man 2 Costume

 Ultimate Spider-Man

 Deluxe Spider-Girl

Adult Spiderman Costumes
Adult Spider-Man Movie Costume

Who says kids get to have all the fun? Many adults also like to dress up as their favorite crime fighter for Halloween and other dress up occasions. This Adult Spiderman Movie Costume features a 100% polyester interlock knitted fabric with blue and red printed Spiderman spider and web design. The matching mask covers the entire head, with mesh covered eye openings and slits for nostrils. This costume can be accessorized with the adult boot covers and long adult gloves.
Adult Boot Covers

Spiderman Movie Gloves

The Muscle Chest Adult Spiderman Costume is padded with fiberfill stuffing much like the child's version, to make Spiderman look muscular in the torso, arms, and thighs. Jumpsuit is made from 100% polyester and comes with a hood that covers the entire head. Top this Spiderman costume off with the adult web slinger and you'll be the hit of the Halloween party!
Light-Up Web Shooter

Adult Spiderman Costume

Spiderman Hoodies
Youth Spider-Man Costume Hoodie

If you don't want to go all out on a full blown Spiderman costume, you can still get the point across with a cool Spiderman hoodie. Hoodies comes in child, teen, and adult sizes, and feature a zip up style hoodie with red and blue printed design, spider logo, and hood with web design and eyes. These hoodies can be used as costumes, and also worn as a warm jacket on a chilly day.
More Spiderman Hoodies
 Little Boys' Zip-Up

 Full Zip Hoodie

 Mens Hoodie

 Ultimate Spider-man

 Little Boys' Spiderman

 Spider-Man Team 2

 Spider-Man over City

 Woven Texture Graphic

 Spider Badge Hoody

 Spider Graphic Pullover

(Visited 557 times, 1 visits today)