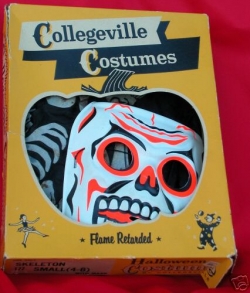 I had the best time searching for vintage Halloween costumes for this article because it brought me back to the Halloween costumes of my childhood. I guess that means that I am vintage also, but even the vintage Halloween costumes in a box were fun to look at because I recognized the boxes.
There are some really great vintage Halloween costume finds for children especially, but for adults as well, and lots of great vintage sewing patterns for Halloween costumes. I will have to ask my mom if she still has our old Halloween costumes at home because if so, I will be using them to decorate my store this year.
Halloween was a simpler holiday when I was a child, but there were already worries about children's safety. However, back then we trick or treated without adults in relative safety in our own neighborhood, or at least we thought we were safe.
Vintage Collegeville Halloween Costumes
I remember buying costumes as a child in boxes just like this Collegeville Halloween costume box picture above left. And you can buy this Halloween costume and other Collegeville Halloween costumes like this one on Ebay that are still in excellent condition.
How much fun to have your children wear the same costumes you did as a child when they go to their Halloween party this year.
Vintage Ben Cooper Halloween Costumes
Vintage Devil Halloween Costumes
Vintage Zombie and Prom Dresses for Halloween
With movies like Carrie being Halloween classics, it is not surprising that there are numerous vintage Halloween prom costumes, and also lots of Zombie housewife costumes on Ebay. But if you are not into Halloween blood and gore, you can always wear vintage Raggedy Ann or vintage Raggedy Andy costumes for Halloween.
There are also some really great vintage Disney costumes available including Mickey and Minnie Mouse, Pluto the dog, Donald Duck, and Goofy full body costumes and masks. These costumes are also great for Mardi Gras and Purim, two other costume holidays.
Collegeville has some generic vintage costumes like band leader costumes, and cheerleader costumes.
Vintage Collegeville Halloween Costumes
Classic Kids Costumes
There are also a lot of vintage classic kids costumes like MGM's Tom and Jerry, G I Joe, Peanuts characters, Lucy and Charlie Brown, and of course, we can't forget the superhero costumes. Batman, Superman, Wonder Woman, and the Flash are very popular now, and were even more popular several decades ago.
Vintage superhero costumes come with a mask, costume and cape, and are usually appropriate for boys and girls to wear, so they make a good choice for vintage Halloween costumes.
Vintage Raggedy Halloween Costumes
Vintage Disney Halloween Costumes
Vintage Black Cat Halloween Costumes
And don't forget about the vintage black cat costumes. Cat costumes are especially good for girls to wear, and all you need is a vintage black cat mask and tail, and some black clothes, and you are ready to go to your next vintage Halloween gathering.
Article publié pour la première fois le 15/09/2013
(Visited 211 times, 1 visits today)