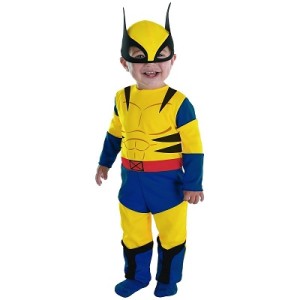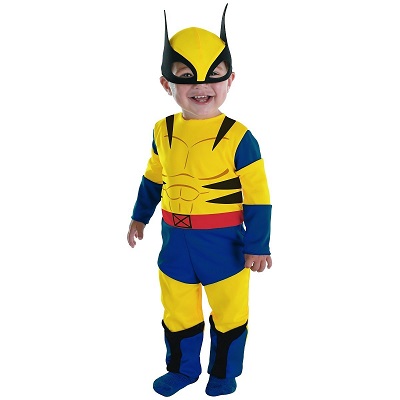 Wolverine is a fictional Marvel Comics character who was created in 1974 by Len Wein. He is a mutant who has the capability of recovering very quickly from injuries. Wolverine has appeared in comic books, video games, television programs, and is commonly associated with the X-Men. Because of Wolverine's popularity, he is also a great costume idea for cosplay, Halloween, and other dress up occasions. Here are some great costume ideas for creating your own Wolverine costume.
Featured: Wolverine Infant Costume – (12-18 mths)
Wolverine Infant Costume by Official Costumes
For the tiniest Wolverine fans, this cute little costume has everything you need to be a superhero for an evening. Comes complete with bodysuit and eye mask. This product is an officially licensed Wolverine costume.
Marvel Super Hero Squad Wolverine Soft Claws Toddler Gloves by Disguise Costumes
These little gloves with soft "claws" will go great with the infant costume. Safe for use by children because they are made from cloth and not hard plastic . Gloves are blue and claws are a silver color. Measures ten inches long and made from 50% polyester and 50% polyurethane. Gloves can be hand washed.
X-Men Wolverine Torso Costume T-Shirt by Marvel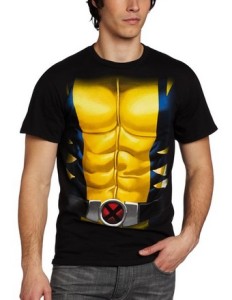 For the bigger Wolverine fans, this tee shirt is 100% cotton and machine washable. Perfect for dressing up as the character, or for everyday wear. Black shirt has yellow and blue muscular torso depicted on it, along with a the design of a belt with silver buckle and red circle with the black X inside of it.
Featured: X-Men Wolverine Torso Costume T-Shirt
Marvel The Wolverine Deluxe Mask Adult Costume by Disguise Costumes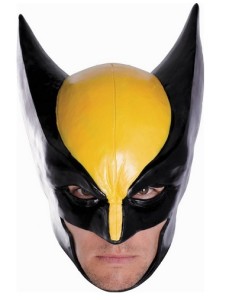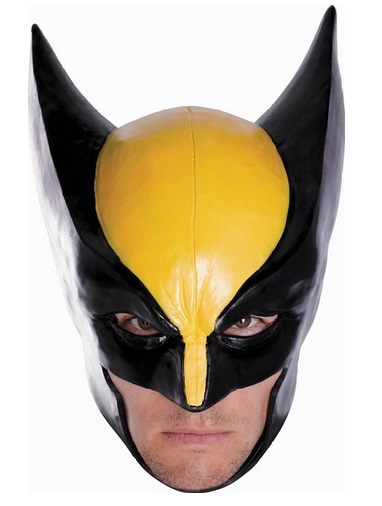 This mask is yellow and black and made from 100% vinyl. Combine with the torso costume tee shirt for an authentic Wolverine look. Mask exposes the eyes and chin and mouth area, just like the Wolverine mask in the X-Men series and movie.
Featured: Wolverine Deluxe Adult Mask
This is a matching black leather jacket and pants with "X" symbol on front of jacket that can be ordered for a female or male in sizes small, medium, large, and extra large, or can actually be tailor made if you provide the company with your detailed measurements. This particular costume is copyrighted and can only be made by the CharmingCoco company.
Marvel The Wolverine Deluxe Adult Costume Wig By Disguise Costumes
This wig is a one size fits all and features dark hair (100% Olefin with 100% Polyester netting) in trademark Wolverine hair style and mutton chop sideburns. Also comes with a Wolverine dog tag necklace. Pair this wig with a white tank style tee shirt and jeans for the perfect Wolverine costume when he's out of super hero dress.
Wolverine Origins Adamantium Adult Claws by Disguise Costumes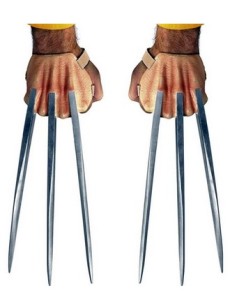 These claws have what looks like a part of hand that straps around the actual hand, with three extending claws on each hand. Pair it with the Wolverine wig and white tank or the Cosplay leather costume for an realistic Wolverine look. The "hand" part is flesh colored while the claws are silver.
Wolverine Origins Classic Costume by Disguise Costumes
This is a full child's costume in yellow and blue that features a full jumpsuit and Wolverine mask. An officially licensed product that comes in sizes small, medium, and large. Pair this costume with a set of claws and you'll be the perfect super hero for Halloween or other dress up fun. A size chart is given on the webpage for this item listing to ensure ordering the proper size, as sizes may differ from one manufacturer to the next.
Deluxe Wolverine Child Claws by Disguise Costumes
This set of child's claws is made from 90% nylon and 10% Spandex. Features long blue gloves with silver claws on each hand. Goes perfectly with the children's classic Wolverine costume, also from Disguise Costumes.
Mens Basic Tank Top by Match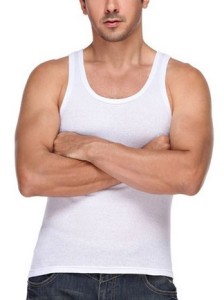 This plain white men's cotton crew neck tank top is perfect with the Wolverine wig and a pair of blue jeans for the casual super hero look. Pair with dog tags and you've created the perfect Halloween costume.
Wolverine Dog Tags Pendant by Friendshops
This dog tags set is done in a vintage style and bears the name "Wolverine". Chain is 23.6 inches long. Looks great paired with a wig, white tank top and denim jeans.
(Visited 939 times, 1 visits today)