Create Your Own Halloween Light Show
Halloween is a holiday that has always been held during the dark time of year, when days are shorter and nights are longer. Traditions hold that it goes back to the Celtic Celebration of the Dead, or Samhain (Sah-ween), marking the end of harvest and the beginning of winter's cold.
The Celts believed that on October 31st boundaries between the dead and living became blurred and spirits roamed free. They burned large bonfires which represented the life-giving sun, using bones and crops to source the fire.
Later in history, the tradition widened in scope and became All Hallows Eve or Halloween.

Battery Operated String Lights Ghost and Pumpkin

Are you looking to go all out for Halloween this year? If so, then you definitely need to get some Halloween lights for your home and your yard. Halloween lights become more available and diverse year after year.
This year there are many fun and spooky lights that you can use to highlight and decorate your yard from string lights to lights on stakes for putting in the ground. Some lights come with sound, and others blink on and off. And for young children, Halloween night lights can keep the night from being too scary.
Take a look through these lights on this page, and click through for more colors, varieties and details on each light. Have fun!
Where Did the Tradition of Halloween Lanterns Come From?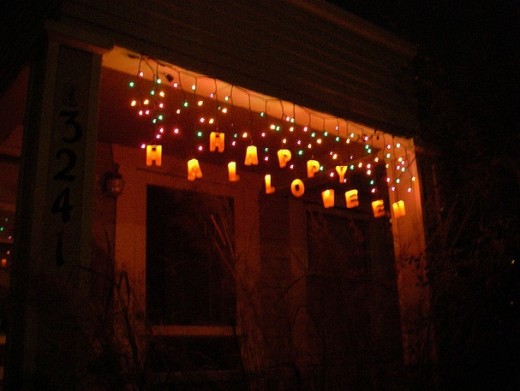 Trick or Treat: A History of Halloween

There are a lot of theories but the most popular in the UK is that the tradition of lanterns is comes from the spooky lights that can sometimes be seen over peat bogs. There is a perfectly natural answer for the phenomenon, but you can understand the superstitions that grew up around them. And of course a lit candle was always thought to scare away evil.
With these longstanding traditions, it is not surprising that modern day celebrants use candles and electric lights to help light up the night for trick or treaters and anyone else who wanders by. Modern technology has introduced a range of lighting that offers versatility and variety in color, shape and control over how they appear.
++++++
Modern Halloween Lights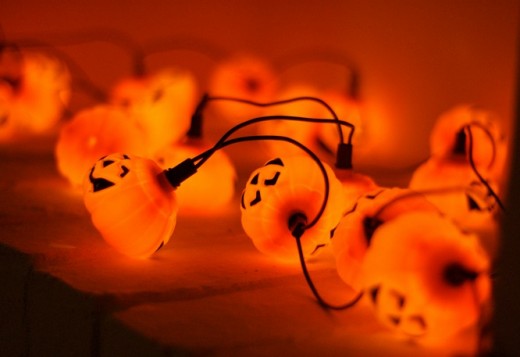 Cat and Pumpkin Lantern

 Pumpkin Light Set

 Color Changing Ghosts

 Ghost Light Set

 Sugar Skull Lights

 Ghost with Tombstone

 Skull Bubble Lights

 Spider Light Set

 Bats Light Set

 Musical Skull Lights

In the United States, Halloween has become almost as popular as Christmas as both adults and children enjoy costumes and parties for the holiday. With this continuing trend, Halloween decorations for both the interior and especially the exterior of homes have reached new levels of sophistication.
Not only are there string lights in Halloween colors, but they come in a wide range of cool shapes including ghosts, pumpkins and skeletons. Artists are starting to create even more expensive lighting, some of it even handmade. People who have manufactured Christmas lights for years are branching out into this new market and having fun producing these spooky lights. The video below is just one example of how one homeowner celebrates Halloween each year.
[youtube]https://www.youtube.com/watch?v=ck0JCaMt4tA[/youtube]
Neighborhoods in Light
As you stroll out for Halloween parties and trick or treat this year, look for neighborhoods awash in spooky lighting displays for the best place to go. These folks have spent a lot of time preparing for a good time on Halloween.
[youtube]https://www.youtube.com/watch?v=gC83KEapaXU[/youtube]
As you can see by the two videos on this page, homeowners can get pretty elaborate in the desire to entertain for Halloween. The holiday has become a completely fun day to let down your hair, put on a costume and stay out in the dark hours of the night for plain old fun.
+++++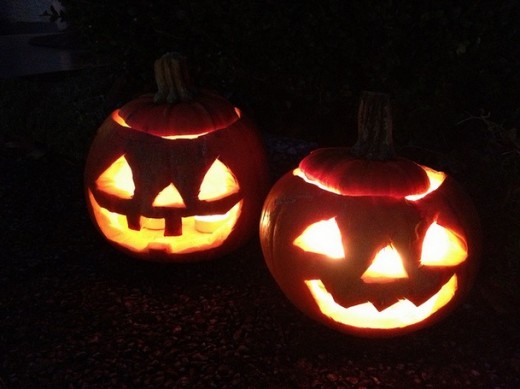 Did you know?
Lighting a candle on All Hallows Eve in some countries is to ward off evil spirits that were thought to be restless.
+++++
Spooky Black Rattan Halloween Tree with Bats
This is probably the light I will pick. Just take it out of the box, plug it in, place it on a table near your window and YOU ARE DONE! I like the easy life.
This tree comes already assembled and ready for action. It is a cross between spooky and decorative, easy for anyone to handle.
It works better as an interior piece either in a corner or as a centerpiece for a Halloween gathering. Seen through the window, it gives off enough light to make the interior look dimly lit and haunted.
Spooky Black Rattan Halloween Tree

++++++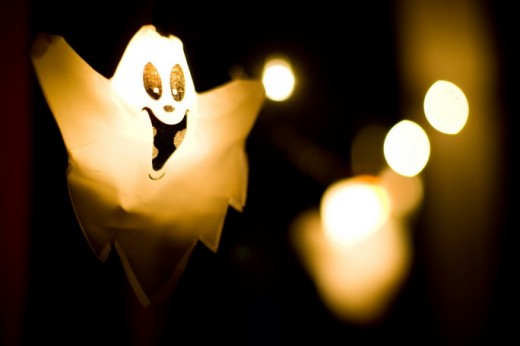 Did you know?
The reason that orange and black are the traditional colors used for Halloween is to represent the autumn harvest and the darkening nights.

++++++
Hanging Flame light – Great for Halloween decoration
This is a really cool decoration. This is an electric light with a fabric flame that is lit up by amber lights. A fan creates the flickering flame effect. Runs on a 4 foot 100V cord and comes complete with 2 15 watt bulbs.
Halloween Accessory Hanging Faux-Flame Electric Lamp

Purple/Blue Bat String Lights
These blue bats are adorable for Halloween or any spooky party occasion. They are battery operated so no worry about plugging them in.
 Bat String Lights

 Bat String Lights

 Bat String Lights

 Twinkling Bats

 Bat String Lights

Halloween Night Light – Moondance
This darling night light is not scary and makes a cute addition for Halloween. You can plug it in any standard outlet.
Halloween Night Light – Moondance

++++++
Halloween Lawn Ornament Lights
Skeleton Yard Flamingos Lawn Decor Ornaments – Great for Halloween Haunted House
Plenty people have flamingos in their yard but not many have skeleton flamingos? These are made of black plastic with glow pain bones. One of the them is slightly taller than the other. You'll be able to bring them out year after year.
2 Halloween Skeleton Yard Flamingos Lawn

Skeleton Halloween Lawn Yard Stakes with Orange Lights
Properly spooky, but not too scary for children, these light-up stake are perfect for your walkway.
Skeleton Halloween Lawn Yard Stakes

Jack-O-Lantern Pumpkin Lawn Ornament
This lawn ornament will light up your entire front yard for trick or treaters to see how to get to your door. Friendly and cute, not scary.
++++++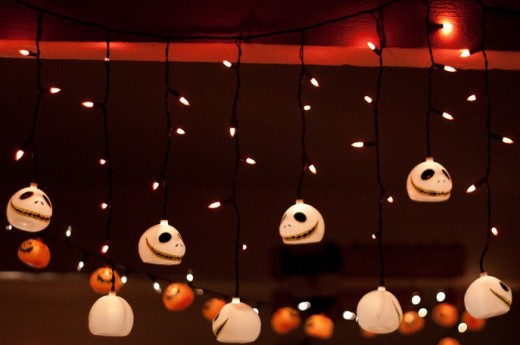 ++++++
Resources on Halloween Lights
++++++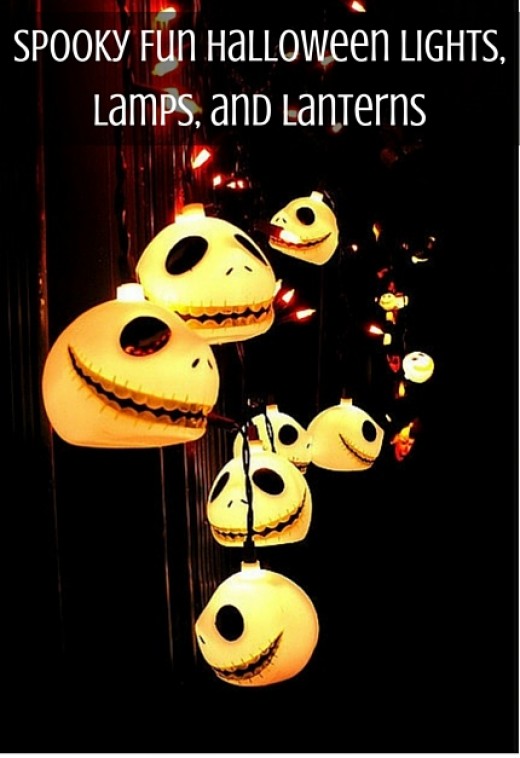 (Visited 763 times, 1 visits today)