The Nightmare Before Christmas Neo-Gothic Fun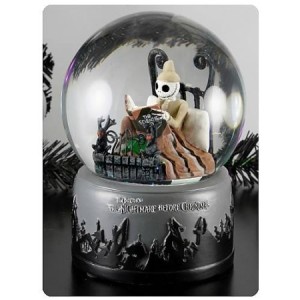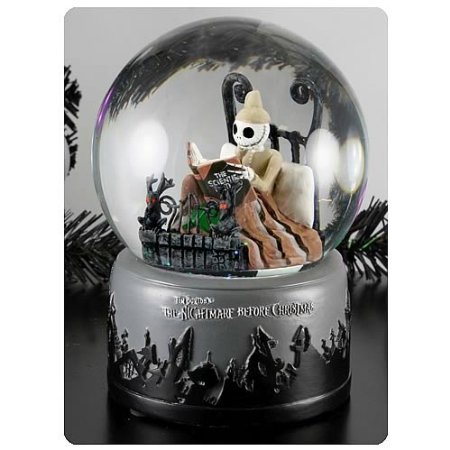 Who can resist the antics and fun mayhem of Tim Burton's The Nightmare Before Christmas Disney Touchstone Pictures film. Filled with crazy, scary, and manical characters from our nightmares, The Nightmare Before Christmas touches the playful child in all of us.
With the success of this departure from the normal animation, Disney has also released a wonderful collection of The Nightmare Before Christmas collectibles and snow globes. Since snow globes are usually associated with Christmas, the snow globes created for The Nightmare Before Christmas cast a gothic fun ambiance to what is usually a romantic fluffy genre.
Disney has done it's usual wonderful job creating unique memorable moments from the movie in classic snow globes and the more unusual water globes. I love what Disney has done to make these globes unique. For example, instead of being filled with snow, some of the globes are filled with bats and ghosts. Other snow globe settings feature the characters like Jack Skellington and Sally peering into the globe instead of being inside the globe themselves. Another group of The Nightmare Before Christmas globes glow or light up in the dark.
The Nightmare Before Christmas Musical Globe
 Jack Skellington Musical Waterglobe

 Jack Skellington Musical Waterball

 "The Nightmare Before Christmas" First Snow Globe

Not the Classic Snow Globe
The scenes from The Nightmare Before Christmas are dark scenes with ironic snow globe figurines like the cat snow globe in which a cat is suspended in the globe in a larger scene. These are not your typical Christmas scenes like a Mickey Mouse or Cinderella snow globe, but they are spooky fun nonetheless.
Snow globes from The Nightmare Before Christmas include scenes with Oogie Bogie and an entire set of mini snow globes featuring Jack and Sally in different scenes. My favorite is the snow globe with the globe being the head of a snowman and instead of a regular head it is Jack Skellington's head in the globe. There is also a very fun Disney bedtime Jack Skellington snow globe featuring Jack in his pajamas in bed.
The Nightmare Before Christmas Sally Snow Globes
 Sparkler Water Globe Sally

 Nightmare Before Christmas Ornament

 Snowglobe Pin

Is Nightmare Before Christmas a Christmas Movie or a Halloween Movie?
I am not really sure if we should consider The Nightmare Before Christmas a Christmas movie or a Halloween movie. The film has elements of both Halloween and Christmas, and the collectibles would certainly be appropriate for Halloween or just for Goth collectors
There are also some Halloween snow globes in the collection of The Night Before Christmas Snow Globes featuring pumpkins and other Halloween themes. Whichever it is, The Nightmare Before Christmas is a fun, silly movie full of great characters, originality, and creativity that could only come from the mind of Tim Burton.
Tim Burton's quirky genius is evident throughout the movie. The animation and characters show off the imagination of Tim Burton with the delightfully dark, but loveable characters interweaving in plots and subplots throughout the film. Tim Burton is definitely a master of his film niche.
Jack Skellington Snow Globes
Westland Eternal Love

Nightmare Before Christmas

Other Nightmare Before Christmas Collectibles
 Monopoly

 Water Bottle

 Dr. Finkelstein

 Celebrating Our Love

 Collectible Oogie Boogie

 Cuckoo Clock

 Jack Skellington Mug

 Operation

 Figurine Gift Set

 Ceramic Cookie Jar

Nightmare Before Christmas Plush
 Jack Skellington

 Mini Bean Plush Zero

 Barrel Plush

 Shock Plush

 Disney Sally Plush

 Lock Plush

 Scary Teddy Plush

 Dr. Finkelstein

Nightmare Before Christmas Blu Ray
This version contains one Blu-ray disk and one DVD disk. The Blu-ray specs listed on the box are 1080p, with a 1:66:1 aspect ratio. The DVD specs are shown as "original theatrical format" with a 1:66:1 aspect ratio. If you do not already own a Blu-ray player, this version will work best.
The Nightmare Before Christmas Collector's Edition (Two-Disc Blu-ray/DVD Combo)

(Visited 2,464 times, 1 visits today)