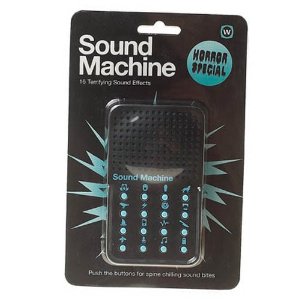 Bored of the same old front yard Halloween décor? Why not add thrill using some Halloween sound effects to amuse and wittingly terrify all those who will come for trick or treat or the guests during your Halloween party? One of the most effective ways to transform your front yard into something more exciting this Halloween season is the addition of good sound effects. This will help enhance the spooky experience which everyone enjoys during the Halloween season.
A Halloween party is made more exciting with the addition of sound effects. This will allow your guests to have a more enhanced spooky Halloween experience that is far from being boring. Sound effects are considered indispensable part of any stimulating Halloween party.
Creating a Halloween sound effect for the front yard might not be too easy especially for first timers. If you have not tried creating props or adding sound effect to your front yard during Halloween then you might thinks it's a difficult task. However, with some tips and tricks, you will be able to add creepy sound effects which will make your front yard a real hit this Halloween.
Adding scary sounds to your front yard Halloween décor is fun. Make your house the scariest place in the neighborhood with the perfect sound effects. Enjoy the Halloween with a blast using these Halloween sound effect ideas for your front yard. Some of the sound effects you might want to use include helpless victims screaming at night, spooky howls or flapping of bat wings among others. You can get Halloween sounds from your favorite music store or make your own by following these simple tips:
Find a recorder at home and make your own spooky Halloween sound effect. This could be a traditional cassette recorder or a digital recorder. It is ideal to record each and every sound effect between 30 seconds and 1 minute making sure that there should be a pause in between sound effects. Create ghostly sounds by using metals from thick to thin sheets. You can pound, clang and tinkle these different metals together with a pile of chains while releasing a low pitch wail very much like a ghost moan. You will have fun even before the party begins.Scream, grunt, growl, and moan as if you want to terrify someone. Ask a few friends to do the same as if you were horrified, tortured, or someone ghastly is running after you. You can use some power tools to enhance your Halloween sound effect. If you have a chain saw, use this and rev the engine while you or your friends scream. Adding a witch voice to the sound effect will also add thrill. A witch usually emits a high pitch cackling sound which you can easily imitate and have fun on the side.
Finally, there are so many sound effects you can create in order to make your Halloween party more fun. It will be exciting to terrify your friends and Halloween party guests with sound effects using your own ingenuity. They will be amazed once they know you did all the sound effect.
(Visited 183 times, 1 visits today)