Sometimes drawing from real life can create some great results, such as a graveyard scene or cemetary and in the following drawing video you will find one possible variation of a graveyard scene or cemetery, just remember to include all the elements that you would find in a cemetery like gravestones, spooky dead trees, over grown grass and a moonlit sky and some mist on the ground. Drawing a scary cemetery for Halloween is always a fun idea and it's better if you can ink the whole thing creating a nice black and white contrasting picture or illustration.
Use the video below as inspiration mainly to give you a start on drawing a scary cemetery and you could try and add more things to the drawing such as a walking Zombie or Skeleton or even a hand bursting out of a grave like in the video and even add color to it, for best results use greys and dark blues if it's a night time drawing and in a day time drawing you can color with slight muted colors that help to set the tone, but these will be brighter colors than the darker night time colors.
Sketch a draft or two first before starting to draw a complete drawing so that you can effectively plan the Cemetery scene out. Watch the video and see what you could draw!
[youtube]http://www.youtube.com/watch?v=5ii5avhbjDQ[/youtube]
Halloween bumper stickers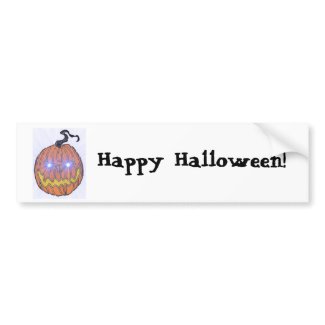 Evil Halloween Pumpkin Art
by
waynetully
Become a part of Zazzle's
bumper sticker affiliate programs
(Visited 375 times, 1 visits today)