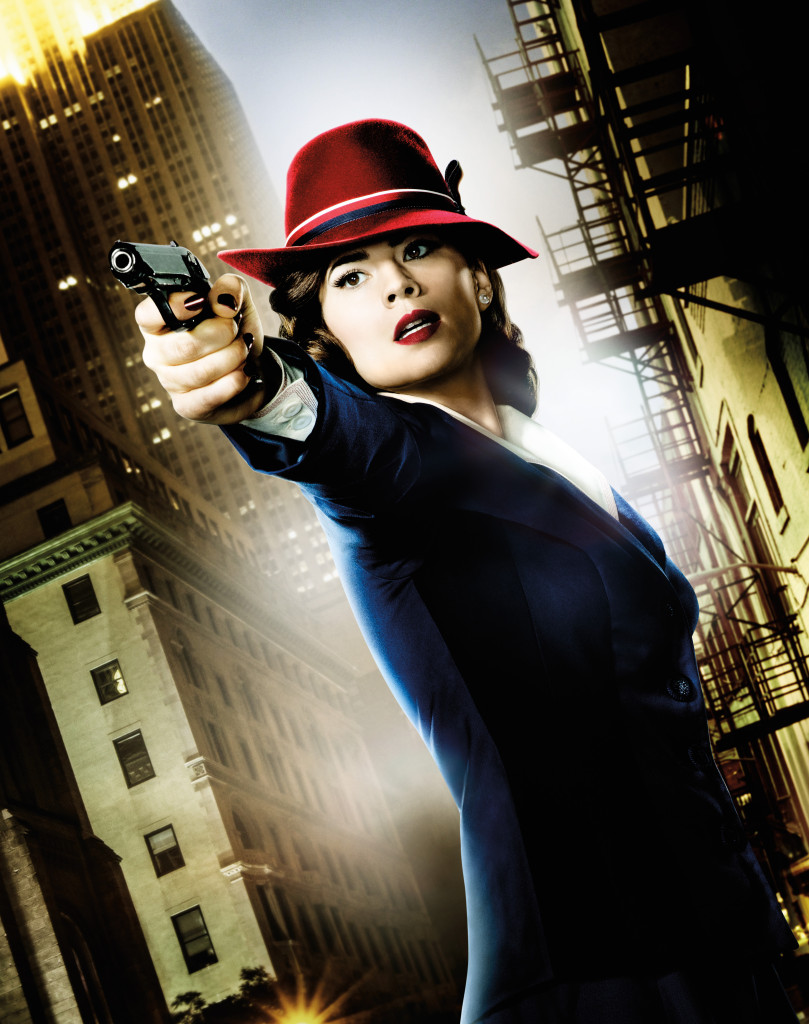 Peggy Carter is a fictional character that first made her appearance in the Marvel Comics comic book called Tales of Suspense in May of 1966. Agent Carter is usually a supporting character in books and movies about Captain America. More recently , the character of Agent Carter has appeared in the Marvel Cinematic Universe feature film in 2011 called Captain America: The First Avenger and in the 2014 film sequel, Captain American: The Winter Solider. The character of Peggy Carter also has her own television series called Marvel's Agent Carter, which aired from January to February of 2015 during the mid-season break of Marvel's Agents of S.H.I.E.L.D. Peggy Carter is a woman who finds herself a single American woman in the 1940's time period, who manages both administrative work along with her secret missions. Peggy Carter possesses a unique fashion style that makes a great choice for either Halloween or Cosplay costumes. Here are some ideas for creating your own Agent Carter costume.
Sexy Wartime Officer Costume
This costume is made from 100% polyester fabric and includes both the dark green skirt and dark green military style jacket with attached shirt front. No need for a white shirt and tie underneath the jacket because of the shirt front. Jacket has Velcro , while skirt has an elastic waist and zipper. Costume features military patches on chest and shoulders and includes a matching green military style cap. Available in sizes medium and large. Skirt falls just above the knee. Add aviator wings to each collar for an authentic Peggy Carter look.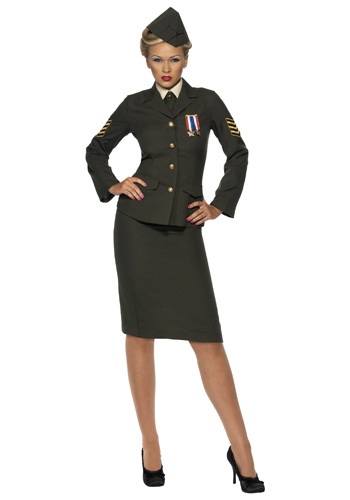 Sexy Wartime Officer Costume

Wartime Officer Adult Costume

Wavy Auburn Wig
This wig is made from synthetic fibers and has a mesh cap interior. Features long, slightly tousled auburn hair with sweeping bangs. With a few bobby pins here and there, this could make a great Agent Carter look for Halloween, dress up, or Cosplay fun.
WW2 Air Force Female Captain Costume
Another great look of Agent Carter's is her navy blue uniform that she wears with the red hat. This costume is made from 100% polyester and can be dry cleaned. Costume includes a vintage looking jacket , a mock shirt front with tie, skirt, and belt. Perfect for that 1940's vintage military look. Costume is offered in sizes small, medium, and large.
Smiffy's WW2 Air Force Female Captain

Women's WW11 Army Gal Costume
This cute costume comes in an army green color and is offered in a standard size that fits most women who have a 34 to 38 inch bust and a waist that measures from 26 to 32 inches. Made from 100% polyester, garment can be hand washed. Costume includes hat, jacket, and skirt. Jacket features one pocket on each side, and brass colored buttons. Would make a great costume for the Marvel character Peggy Carter when paired with a white, collared, button- down shirt and black tie.
Long Sleeved Chiffon Collared Blouse with Pocket
This is a white shirt with a classic button-down front closure that comes in sizes small, medium, and large. A soft and comfortable shirt that can be mixed, matched, and worn for many occasions. Also makes a perfect addition for creating a Peggy Carter costume, when worn with a black tie under a vintage style military jacket.
Long Sleeves Chiffon Collared Blouse

Stripes Pattern Skinny Necktie Black for Women
This black tie is two inches wide and measures 59 inches long. Made from a cotton and polyester blend , there is a subtle stripe pattern within the solid colored tie. Makes the perfect compliment to a button up blouse or dress shirt. Works well for creating the Marvel Agent Carter look when worn with a white collared shirt and vintage military jacket.
Skinny Necktie Black for Women

USN/USMC Aviator Wing Pin
This pin measures 2-3/4 inches and is gold in color. Features eagle's wings spread out wide. This pin looks almost identical to those worn by Agent Peggy Carter. Add one on each collar of a vintage style military jacket for an authentic Peggy Carter look.
Kaylee-H Mary Jane Pumps
Shoe is made from synthetic suede and manmade sole. Features black color with lower heels of 2.75 inches and rounded toe.Shoe is fastened with a thin strap and buckle. These shoes are the perfect compliment to a vintage military style dress such as that worn by the Marvel character Peggy Carter.
Mary Jane Round Toe Dress Pump

Woolen Trilby Hat Vintage Jazz Style
This hat in the red color is the perfect accessory for completing the Agent Peggy Carter look when she is wearing the blue military uniform. Hat is sewn and moulded and made from breathable woolen cloth with lining and snap brim. Red fedora features a solid black band around it. Pair the hat with a red handbag for the perfect accessorized, pulled together look.
Woolen Trilby Hat Vintage Jazz Style

Red Shoulder Handbag for Women
This little red handbag is the perfect partner for the stylish red fedora worn by Peggy Carter in the Marvel television series. Purse features plenty of room and several pockets and measures 10.5 inches tall and 14 inches wide. Detachable shoulder strap allows purse to worn over shoulder or carried by handles.
Red Shoulder Handbag for Women

Lip Gallery Creamy Color Sheer Lipstick
One thing that always stands out about the Marvel character Agent Peggy Carter is her bright red lipstick. When creating a Peggy Carter costume, red lips are a must. The red color called "I'm Taken All Red-Y" is the perfect shade for portraying Agent Carter. Lipstick has a sheer finish that conditions your lips.
DIY Agent Carter Costume
If you are interested in putting together your own Agent Carter costume, consider checking out your local thrift stores for some vintage finds. Thrift stores are also a great place to find dress shirts and ties at a low cost. If you have an older female relative who served in the military during the 1940's, you may also want to ask them if they still happen to have their uniform.
You will need a military style jacket in Army green or Navy blue, some eagle wings pins for your collar, a white collared shirt, black tie, skirt that matches the jacket, a curly wig (or style your own hair accordingly), and red lipstick. The red fedora and purse are essential if choosing the blue uniform style.
These YouTube videos by Marvel Entertainment showcase the fashion style of the Peggy Carter character and will provide inspiration in helping you choose pieces for your Halloween or Cosplay costume. Here is a link to Marvel's Agent Carter-Dress For Success, Part 1 and 2.
[youtube]https://www.youtube.com/watch?v=1j3WZ0oq9ko[/youtube]
[youtube]https://www.youtube.com/watch?v=i8JPFXG6jls[/youtube]

(Visited 1,029 times, 1 visits today)