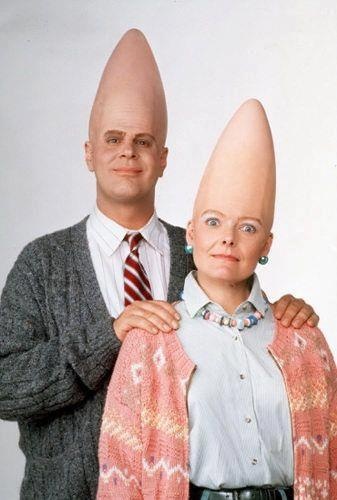 Updated 2019
The Coneheads were a popular comical sketch that appeared on the late night television series, Saturday Night Live. They first made their appearance on the show back in 1977, and went on to make a movie based on the SNL sketch in 1993 called "The Coneheads". The Coneheads are an alien family from the planet Remulak. There are three Conehead family members including the father, Beldar, the mother, Prymaat, and the daughter, Connie. The most distinguishing feature of the Coneheads is their elongated, cone shaped, bald head. This funny and distinct look makes them an ever popular choice to dress up as for Halloween fun. Here we take a look at how to put together your own Coneheads costumes for each of the three characters.
Conehead Cap
This is a one size fits most item that will work for most adults as well as children. This a latex cone cap headpiece that is one piece that includes attached ears.
SNL Conehead Cone Cap
Egg Head Conical Alien Skull Cap
This is the perfect and most essential starter piece for use in creating a Coneheads costume for any of the three characters.
52″ Silver Sequin Black Cape
This black cape is 52 inches long and one size fits most adults.
The black cape makes the perfect costume wardrobe piece for the Coneheads Beldar character, when he is wearing his "full flight " black uniform. Cape is made from black satin fabric and has a wide stand up collar featuring silver sequins. Edge of cape is also accented with silver sequins. Note this cape could also be used to create the uniformed costume for the mother Conehead, Prymaat.
Set of Faux Leather Arm Guards
This set of arm guards will work perfectly with the above mentioned black cape to create a great Beldar or Prymaat uniformed look. Arm guards are fully wearable and comfortable and are made from black leather and accented with silver metal studs. These will make a nice accent for the Coneheads' uniform costume look.
Set of Faux Leather Arm Guards

Slim Fit Soft Turtleneck Long Sleeve Pullover
This garment makes a great "uniform" for the father Conehead, Beldar. Black turtleneck has long sleeves and front hangs down slightly, just like the Coneheads' uniforms do. Combine with black pants, boots, arms guards, and cape for a great Coneheads look.
Slim Fit Soft Turtleneck Long Sleeve Pullover
Even though this is actually a men's garment, it would probably work for creating the mother Conehead's black uniformed costume as well.
To Create the Waistband and Sash
The Coneheads characters full flight uniforms have a sash as part of the uniform which goes around the waist like a wide belt, and two straps that cross over the chest and then over the shoulders and back in the shape of an X. To create this look, simply use some wide, heavy black nylon webbing to create the three straps and add silver or gold duct tape around the edges, with a piece folded over itself to provide the look of trim, without leaving any of the adhesive side exposed. Cut a piece wide enough to fit around the waist, then cut two longer pieces that will fit across the chest and back to form half of the "V" shape. Attach to waistband using black Velcro strips. Wear finished item over the Conehead "uniform" for an authentic look for either Beldar or Prymaat.
1 1/2 Inch Black Heavy Nylon Webbing

3M Utility Duct Tape 2929 Silver

Work Pants and Boots
Combine the black cape, black jacket, hand made sash, Coneheads' headpiece, and black arm guards with regular black pants such as these. Top off with black boots for a complete look. Pants are made from 65% polyester and 35% cotton and feature hook and eye closure and flat front. Wrinkle resistant and stain release fabric.
Dickies Men's Original 874 Work Pant

Black boots feature rubber sole, canvas and nylon upper, and black rubber "Panama" sole. Available in full sizes. Perfect finishing touch for any Beldar costume.
For the ladies portraying Prymaat, try these Women's Slimming Fold Over Waist Yoga Lounge Pants in black and combine with these Women's Combat Boots in black.
Foldover Contrast Waist Bootleg Flare Yoga Pants

Lace Up Combat Boot

Metallic Halloween Costume Cape
This silver metallic cape makes the perfect cape for portraying the Coneheads. It will work for any of the three characters. Trim off several inches until cape comes down to a few inches below the shoulders if you want the authentic SNL look from the old comedy sketches.
Jumbo Metallic Rick Rack Trim
To make your silver or white capes look really authentic if you've decided to trim them to the length of the original Coneheads characters, adding this gold rick rack trim will really add some flare. Either sew or hot glue the decorative trim on each side of the cape front (about two inches from the edge), and run it all up and along the inside of the stand up collar of the cape.
Cotton Kitchen Apron and Iron-On Letters
This plain white, 100% cotton bib apron makes the perfect costume piece for the mother Conehead, Prymaat. Of course, you will need to add the words "I hate housework" to the front of the apron, using red fabric paint, or red iron on letters.
Cotton Kitchen Apron, White

Chunky Letter Iron on Transfer

As long as you have this distinct apron, almost any regular women's outfit will work underneath. The Prymaat character has a variety of clothing in her wardrobe, it's really the "I hate housework" apron and the conehead that stands out.
Conehead Connie Costume
The Conehead's daughter doesn't have any particularly distinct outfit. As long as you wear the cone head headpiece and the shortened cape decorated with the gold rick rack to portray Connie, you could wear jeans and a tee shirt, or just about anything else a teenage girl might wear. If you wanted to be this character for Halloween, it would work best if you dressed up with two others playing the Conehead parents and went as the entire family.
More SNL Saturday Night Live Costume Ideas
Licensed Spartan

SNL More Cowbell Costume

SNL Spartan Cheerleader

Ace Costume

Ace Costume

Gary Costume

Wayne's World Garth and Wayne Costume Set

School Girl Costume

Hans and Franz Costume

(Visited 6,090 times, 1 visits today)