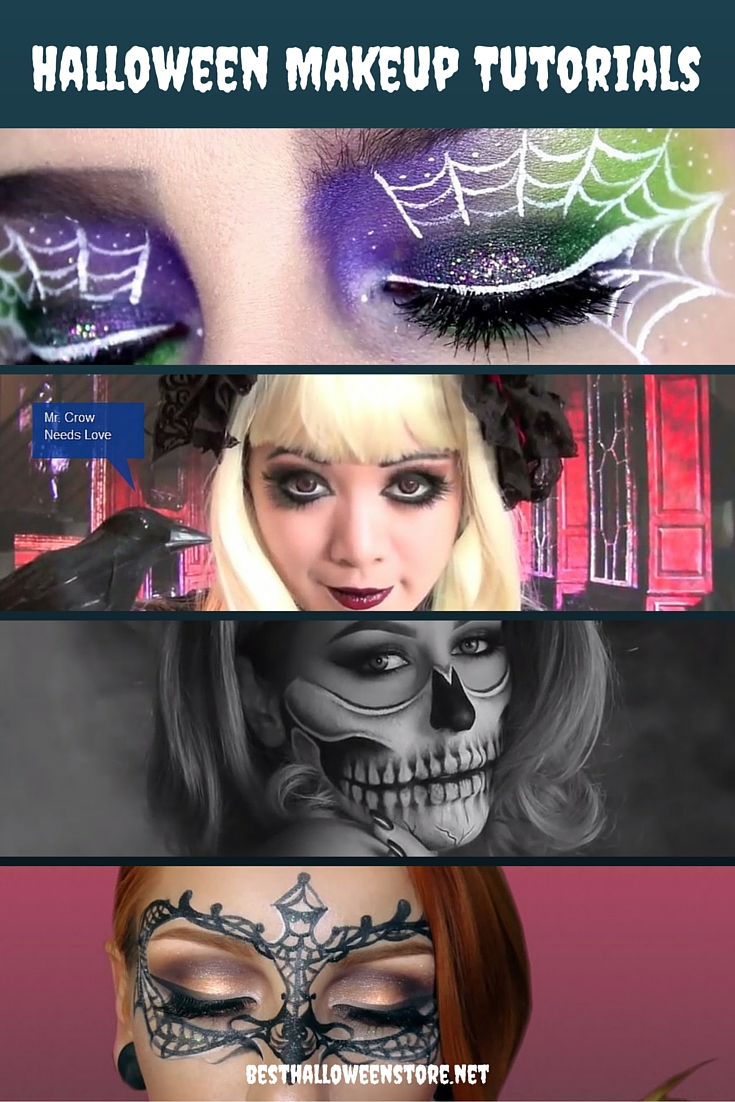 Halloween is quickly approaching so it's time to start thinking about your costume and adding some great Halloween makeup to it. There are a variety of Halloween makeup kits available that will help you transform into your chosen alter ego for this year's Halloween festivities. Whether you are looking for dramatic or down right scary, here are some useful makeup tutorials as well as handy makeup kits which will help you create the special effects of your choice for Halloween.
HALLOWEEN MAKEUP TUTORIALS
Spider Web Halloween Makeup Tutorial
This is a great makeup look when you want a cool makeup effect that is perfect for Halloween that you can also wear elsewhere. This makeup focuses on the eyes, creating a colorful and fun spiderweb on and around each eyelid. The video tutorial is narrated by the artist, so viewers get full step by step instructions on how to create some really awesome eyes for Halloween that could be worn with a variety of different costumes. This look definitely screams Halloween without being scary or gory. Would be great for adults and children alike.
[youtube]https://www.youtube.com/watch?v=EP2ZV_PgsM8[/youtube]
Lion Tiger Halloween Makeup Tutorial
In this video tutorial, the artist shows you the step by step process to create a great "big cat" look for Halloween. This makeup look is nice because it uses regular colors and shades that you are likely to have in your makeup bag already, without having to purchase strange colors you normally wouldn't use. Video demonstrates makeup techniques to make the nose appear wider like an animal's. This tutorial could be used for adults or children to create the look of a tiger, lion, or cat for Halloween.
[youtube]https://www.youtube.com/watch?v=0vZkO4WXzQw[/youtube]
Gothic Lolita Doll Makeup
This is a makeup tutorial for achieving the look of a creepy anime Lolita doll. The look is of a wide eyed doll with flawless porcelain skin. It involves using a lot of black and white eyeliner and combining it with multiple pairs of false eyelashes. The artist also applied very large round contact lenses to achieve large, round, doll-like eyes. She also shows viewers how to create the painted doll lips effect. By adding a wig and a large bonnet, you too can look like an anime porcelain doll.
[youtube]https://www.youtube.com/watch?v=Jk6lWXSE5IY[/youtube]
Steampunk Makeup Tutorial
If you're a fan of Steampunk, then this is the makeup tutorial for you. Get the effect of looking as if you are a machine made of various pieces of metal.The artist creates the look of metal pieced together with rivets on her skin and various openings with sets of gears inside. A full list of makeup products used in creating this effect is listed with the tutorial. Combine this makeup effect with a cool Steampunk hat for a very cool looking Halloween costume. Could be used for either men or women.
[youtube]https://www.youtube.com/watch?v=CiQlNXKKDoM[/youtube]
There is also a tutorial for making the cool looking do-it-yourself Steampunk hat that is shown in the video.
[youtube]https://www.youtube.com/watch?v=9VZc9E8LB_o[/youtube]
Halloween Skull Makeup
This cool skull is a great Halloween makeup tutorial that could be used for men, women, or children. A great look that is achieved by using white and black face makeup which is easy to find in Halloween makeup kits available at retail outlets, local drug stores, and a variety of Halloween stores. This look would work well for a variety of creepy costumes.
[youtube]https://www.youtube.com/watch?v=npFbx6MtF8c[/youtube]
Easy Masquerade Makeup Mask Tutorial
This is a makeup tutorial for a mask that could be used with a wide variety of different Halloween costumes. Better than wearing a mask that could fall off or interfere with proper vision, especially for kids out walking around in the dark trick-or-treating. Video illustrates the step by step process of creating the mask. Just follow along for a great intricate lacy looking mask that won't slip off. Add the finishing touch by applying dramatic eye makeup and lipstick for a perfect Halloween look suitable for many costumes.
[youtube]https://www.youtube.com/watch?v=ih_2AmfkPZ8[/youtube]
HALLOWEEN MAKEUP KITS
Frankenstein Monster Character Kit
If dressing up like the Frankenstein monster is your thing, then this is the kit for you! Kit includes a five color palette with colors hunter green, white, black, burnt orange, and sage oil based makeup. Kit includes step by step instructions as well as Mehron colorset powder, full size pencil liner, makeup remover cloth, full sized makeup brush, powder puff, modeling putty wax, and non-latex foam wedge.
&
Vampire Bite Kit
What would Halloween be without a few people walking around with fake injuries? Use this Halloween makeup kit to create the look of bruises or other injuries. Includes a four color palette and users may view a video tutorial online with tips on how to use the product.
&
Black & White Vampire Makeup
If you're looking to be a basic scary monster type with a white washed-out complexion and dramatic black effects, this kit is for you. Black and white Halloween makeup kit is perfect for creating looks like a mime, vampire, skeleton, sad clown, or even a version of the Crow or members of the rock band Kiss. A simple kit with one stick each of black and white makeup.
&
Zombie Makeup Kit
Zombies are all the rage these days, so use this kit to create a great zombie look for Halloween. Get the Walking Dead look by using this kit that contains a color tray, tooth blackening material, fake blood, horror flesh , and more. Washes off easily with soap and water when the night is through. Professional quality makeup is hypoallergenic.
&
Zipper FX Kit
For a really creepy special effect, why not create the look of a face that unzips, revealing inner muscles? You can easily achieve the look with this special effects makeup kit that includes a zipper, "bloody scab", spirit gum and remover, makeup, sponges, and a brush. A perfectly gory effect just in time for Halloween.
&
More Halloween Makeup Kits
Family Makeup Kit

Hollywood Makeup Center

Zipper FX Makeup

Accessory Makeup Kit

Halloween Costume Makeup

Zombie Makeup Kit

Complete Makeup Kit

Zombie Doll Makeup

Skull Make-up Kit

Monster High Kit

Skeleton Makeup Kit

Trauma Makeup Kit

Ice Princess Make-Up

Halloween Makeup

12 Color Face Paint

Sugar Skull Temporary Face Tattoo Kit

Halloween Halloween Tattoos

Mehron Bruise Makeup Wheel (1 oz)

Men's Day Of The Dead Make Up Kit

Vampire Blood Gel, 1oz Bottle

&
(Visited 378 times, 1 visits today)