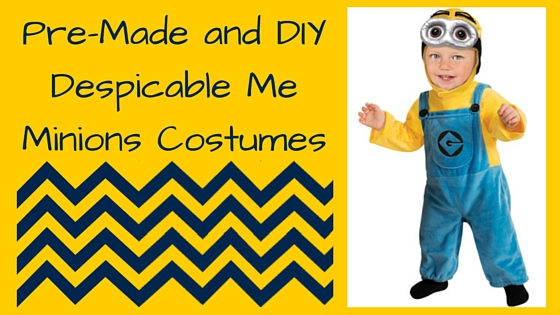 With the movies Despicable Me, Despicable Me 2, and now Minions being such bit hits with children and adults alike, almost everyone knows who the lovable, yellow Minion characters are. Because of their enormous popularity, you'll find Minions on everything from lunch boxes, to tee shirts, to coloring books. This is why it's no surprise that many children, teens, and adults, will choose to make Minions their Halloween or Cosplay costume choice this year. Here we take a look at some available Despicable Me Minions costumes, as well as offer some ideas on how to put together your own Minions costume.
Minion Infant & Toddler Costume
This little Minions costume includes the blue jumpsuit and headpiece. Jumpsuit has the blue overalls with Minions emblem, and attached yellow long sleeves and chest and back area so that it looks like a separate shirt under the overalls. Headpiece is yellow and features attached silver goggles with Minion eyes and attached hair. Comes in infant sizes 6 to 12 months, or 1 to 2.
Minion Infant & Toddler Costume

Minion Goggles
These Minion goggles will help to complete your do it yourself Minion costume. Large, round, gray goggles with black earpieces are made from plastic. Fun for dress up play or for use as the finishing touch for a Halloween or Cosplay costume.
&
Toddler Girl Minion Costume
This costume includes dress, headpiece, and tights. Made from 100% polyester, costume features a long sleeved yellow shirt that has an attached blue overall dress. The pocket of the dress features the Minion emblem of the letter "G" in black. Headpiece features yellow "hat" with attached Minion goggles, with eyes and hair details. Black tights are included with the costume. Comes in sizes infant and toddler. This is the perfect costume for any little girl who wants to be a Minion from Despicable Me for Halloween.
Minion Costume Hoodie
This is a great hoodie to wear for dress up occasions or anytime. Garment is made from 60% cotton and 40% polyester and is printed to look like the overalls and yellow skin of the Minions. Long sleeves and areas not covered by the blue "overalls" are yellow and the hood is printed with the Minion eyeballs, goggles, and hair. Available in sizes 4, 5/6, 7, 8, 10/12, and 14/16. This makes a great Halloween costume when worn with matching colored blue jeans and black shoes or boots.
Adult Minion Dave Costume
Adults don't have to miss out on the fun of being a Minion with this great costume. This costume is a printed foam bodysuit that comes in an adult standard size. Printed details include the yellow head and body, hair, goggles with eyes, open mouth with teeth showing, and blue overalls with the "G" emblem. This costume fits to allow the wearer's head, neck, arms, and legs to be exposed so that they can see and move about freely.
Despicable Me Minions Mascot Costume
Become a life sized Minion with this very authentic looking mascot costume, which is perfect for Cosplay or Halloween. Comes in sizes small, medium, and large. Made from EPE materials and PP plush cotton fabric. The costume appears to have black foot coverings and blue pant legs that the wearer slips into. Body of costume is large and plush and goes over the body of the wearer. Costume has yellow sleeves for arms to stick through the body. Yellow face and body, with blue overalls bearing the "G" emblem, black shoes, and gray goggles with black band.
Despicable Me Minions Mascot Costume

Deluxe Dave Minion Costume
This costume comes with jumpsuit, gloves, headpiece, and goggles and is made from polyester fabric. Available in a child's size small and medium. Costume is a one piece jumpsuit featuring the blue overalls with "G" symbol, and yellow sleeves and exposed bodice sections. Black gloves have three fingers on each hand. Yellow headpiece with painted "hair" and round, gray goggles complete the Minions look. Adding some yellow face paint would really make this costume look extra cute.
Official Despicable Me 2 Mask – Stuart Minion
This is a simple face mask made from card stock and has an elastic band that fits around the head to hold it in place. Features the yellow head of Stuart the one-eyed Minion. Has Stuart's cute little smile and one eyed gray goggles with large, single brown eye. Wear with blue overalls, black gloves, and yellow long sleeved shirt for a complete Minion look.
Official Despicable Me 2 Mask – Stuart Minion

More Minions Costumes
 Girls Minion Costume

 Gru Mask

 Baby Minion Kevin

 Minion Pet Costume

 Agnes Costume

 Minion Boys Hoodie

 Purple Minion

 Minion Goggles

 Minion T-Shirt

 Crochet Hat

Polar Fleece Onesies Pajamas
If you are looking for a super comfortable Minions outfit, try this polar fleece fabric pajama. Available in sizes small, medium, large, and extra large. Features blue"overalls" and yellow bodice and long sleeves, with attached hood with Minion smile, eyes, and goggles. Would make a super fun Halloween costume as well as snuggly, warm pajamas for the fall and winter months. Pair with black shoes and gloves for an authentic Minion look.
Create Your Own DIY Minions Costume
If you'd like to transform into a Minion from Despicable Me for Halloween or Cosplay, this great bodysuit is the perfect foundation piece on which to build your costume. The solid yellow bodysuit has a removable hood, on which you could paint an eye(s) and mouth, or perhaps cut out pieces of felt to make the mouth and eyes and attach them with simple basting stitches you could later remove if desired. Combine with denim bib overalls and make sure to create a "G" emblem on the front pocket. This could also be cut from black felt. Add the Minion goggles to complete the look. Extra accessories might include black gloves and shoes for a full top to bottom Minion look.
 Adult Second Skin Supersuit

 Denim Bib Overalls

 Official Minion Shades Goggles

DIY Minion Halloween Costume
This is a video tutorial that shows how to create a Minion costume and goggles. To create this costume, she uses some plastic sunglasses and silver duct tape for the goggles (just something I noticed, I would have covered the ear pieces to make the goggles look more authentic). She uses a pair of $5.00 bib denim overalls from the thrift store to create the costume, and cuts hers off for shortalls, although you could keep them as long pants for added warmth. The overalls are paired with a long sleeved yellow shirt. She also does hair and makeup , which is not necessary. If you chose to do makeup, an actual yellow face paint makeup would work best, such as this yellow color cup make-up.
&
[youtube]https://www.youtube.com/watch?v=Hw3H95Wx_Fk[/youtube]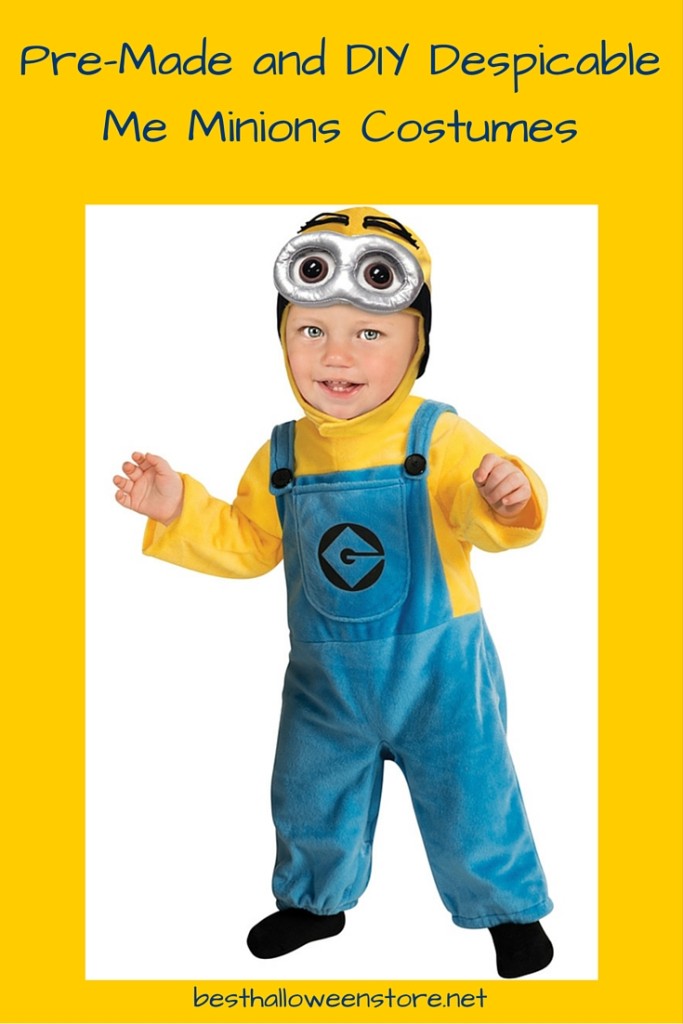 (Visited 960 times, 1 visits today)