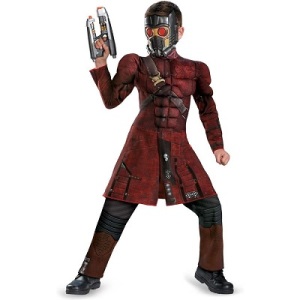 Star Lord is a fictional superhero, the alter ego of Peter Quill, who first appeared in Marvel Comic books in January of 1976. Quill is the son of an alien father and a human mother, and takes on the role of an interplanetary policeman known as Star Lord. The Star Lord character appeared in the crossover comic called Annihilation in 2006, and Annihilation Conquest in 2007, where he became the leader of a superhero group from space known as the Guardians of the Galaxy.
Due to the popularity of this character, and the popularity of the 2014 film Guardians of the Galaxy, it's not surprising to find Star Lord on a variety of merchandise. It will certainly be no surprise to find that a Star Lord Guardians of the Galaxy costume is going to be a great choice for Halloween and Cosplay costumes this fall.
Featured:  Guardians Of The Galaxy Star Lord Costume
Marvel Guardians Of The Galaxy Star Lord Classic Muscle Boys Costume by Disguise Costumes
This is an officially licensed Marvel Costume made from 100% polyester.  The costume looks as if it is separate pants and a jacket, but it is really an all in one jumpsuit with the "jacket" being attached. This version of the Star Lord costume has defined and padded areas in the torso and arms to give the superhero wearer a muscular appearance. Includes a Star Lord character mask with glow in the dark eyes for nighttime fun. Comes in boys sizes small ( 4 to 6), medium (7 to 8), and large (10 to 12). Pair with black boots or shoes and a toy blaster gun for the perfect Star Lord costume for Halloween or dress up.
Guardians Of The Galaxy Star Lord Quad Blaster by Marvel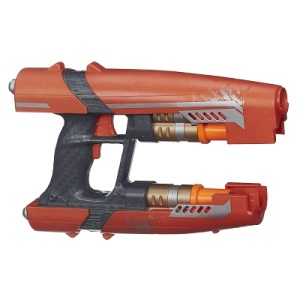 This cool toy quad blaster is the perfect replica of Star Lord's weapon. The blaster is red, and comes with four darts. Dart can be loaded into four barrels at once and can be fired at distances of up to twenty five feet. One dart may be fired alone, or two darts may be fired at the same time. Perfect accessory for any Star Lord costume.
Featured: Star Lord Blaster
Men's Marvel Guardians Of The Galaxy Star Lord Deluxe Costume by Disguise Costumes
For the adult Star Lord fan, this costume features a 100% polyester jacket that is hand washable. Costume comes with a Star Lord character mask with eyes that glow in the dark. Costume does not include pants or toy blaster gun. Pair with any dark pants and black boots to complete the outfit.
Guardians Of The Galaxy Comic Version Star Lord/Peter Quill Leader Cosplay Costume
This costume is made to look like the older comic book version of Star Lord's costume and is a high quality, hand made piece. Costume can be tailor made to fit any size. Each costume is custom made and takes around ten to twenty days to complete, so order early! Costume set includes navy blue jacket with red trimming and white logo, navy blue pants, red gloves, white show covers that look like boots, black belt with silver buckle, and black bags. Pair with the Star Lord mask and blaster gun for a complete and authentic look.
Guardians Of The Galaxy Star Lord Battle Gear Set by Marvel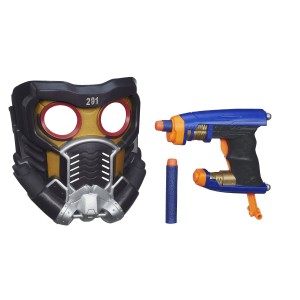 This set comes with a Star Lord character mask and a mini blaster gun with dart that can be fired at up to forty feet. This is the perfect accessory set for the above mentioned Cosplay costume, or when piecing together a Star Lord costume of your own creation.
Featured: Star Lord Battle Gear
Guardians Of The Galaxy Star Lord Tee Shirt by Impact
This tee shirt is made from heavy duty pre-shrunk cotton and comes in a black color. Available in sizes small through XX large. Sizes are unisex so either a man or woman can wear it. This could be used as part of a Halloween costume with the character mask and blaster gun, for those who don't like going all out to create a costume.
Make Your Own Star Lord Costume
Check out your local thrift stores for long men's trench coats in a red or maroon color. This could be a key piece in creating your own Star Lord costume. Simply combine the coat with a dark pair of pants and boots, along with character mask and blaster gun to make the perfect costume.
(Visited 521 times, 1 visits today)