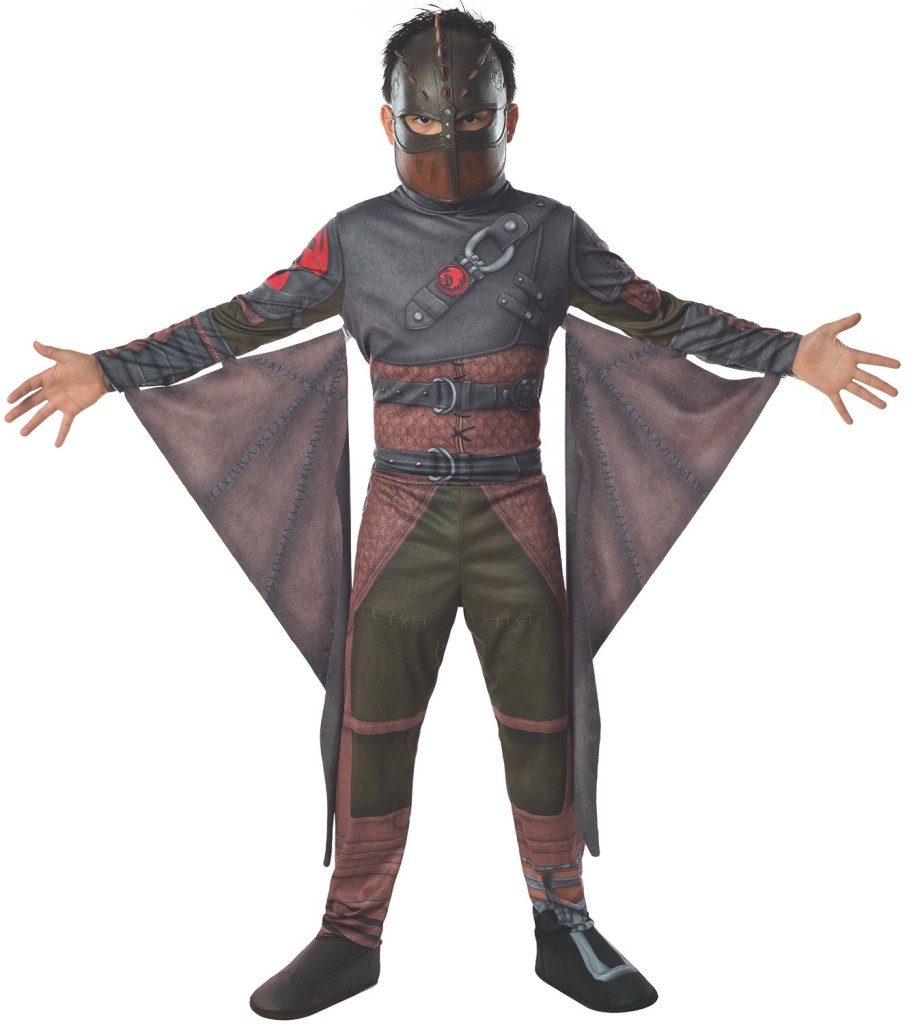 Hiccup is the main character in the movies How To Train Your Dragon (2010) and How To Train Your Dragon 2 , a 2014 computer animated action fantasy film in 3D. Hiccup is a young Viking boy in the first film, and is portrayed as a young adult in the new release which is the second film in the How To Train Your Dragon trilogy. The books are based off of the book series of the same name, written by Cressida Cowell. Young Hiccup aspires to hunt dragons yet finds himself befriending a young dragon in the first film, and in the second film, Hiccup finds himself going on many exciting adventures now that he has come of age. With the popularity of this film series and the character of Hiccup, it's not surprising that many boys, young and old, may want to dress up like Hiccup for Cosplay or Halloween. Here we take a look at some ideas for creating a Hiccup costume for dress up fun.
How To Train Your Dragon 2 Boys Hiccup Costume by Rubie's Costume Co.
This Hiccup costume comes in sizes small and medium and consists of a printed jumpsuit with attached boot tops. Costume has all of the intricate details of the more elaborate Hiccup outfit from the movie printed on the jumpsuit, such as the strap, buckle, and emblem on the shoulder. Costume is steel gray/olive green/ bronze, and purple in color. Has "wing" like features hanging from arms and includes a latex or rubber mask with "spikes" on it. A word of caution, according to a customer review, the mask comes with no air holes in it and is rather form fitting to the face. So, if you plan on your child using the mask with their costume, make sure they have no latex allergies and be certain to puncture some large air holes in the mask to allow them to breathe normally while wearing it.
 Rubies How to Train Your Dragon 2 Hiccup Costume, Child SmallCheck Price
Viking Helmet by BlockBuster Costumes
This Viking helmet makes the perfect accessory for the casual Hiccup costume. Plastic helmet measures seven inches in diameter. Design features gray colored helmet with detailed gold colored designs, border, and horns. Great addition for an accurate Cosplay costume or for Halloween trick or treating.
Hiccup: Official How To Train Your Dragon 2 Face Mask by Movie Stars
This mask is a high quality card face mask that features a high resolution image of Hiccup. Mask has cut outs for eyes.
 Hiccup – Official How to Train Your Dragon 2 Face MaskCheck Price
Child Viking Shield And Sword Costume Accessory by Forum Novelties
This shield and sword set is made from lightweight plastic and is sized for young children. Can be used for a Hiccup or other Viking costume as well as for year round fun long after Halloween.
 Forum Novelties Child Viking Shield and Sword Costume AccessoryCheck Price
Want Inspiration For Your Hiccup Costume?
With cool websites like Pinterest, there is no shortage of places to find inspiration for your homemade costume creations. Using some of these photos as a reference, it's easy to see you can make your own pieces to put together a great Hiccup costume for Cosplay or Halloween.
The shield and sword can be made very simply by cutting out and painting some heavy duty cardboard or foam board. Add a rectangular piece of craft foam for the sword, and use supplies such as duct tape and craft paint to create a great replica of the sword and shield. Inexpensive leggings can be purchased in either olive green or brown for Hiccup's pants. (You may need to look in the girls or women's clothing section for these, as males don't normally wear leggings. Don't worry, they won't look feminine with this costume and should fit just fine!)
 Girls Leggings Brown XLargeCheck Price
You may also have to look in the girls or women's sections for boots like Hiccup wears. Again, they just don't make this style for boys and no one will even notice because it will look perfect with the costume. An example of the type of boot can be found at http://www.amazon.com/Soda-Soong-Womens-Eskimo-Boots/dp/B00FC1W5IW/ref=pd_sbs_a_4?ie=UTF8&refRID=0KF2K8MYCN7SPE7MVSTJ, although you're likely to find a much cheaper, virtually identical product at any local big box retailer. To really make them look authentic, had sew, glue, or Velcro some faux fur fabric around the tops. Choose an option to attach the fur that you can easily remove it without damaging the boots if you wish to use them again.
For Hiccup's shirt, purchase a long tunic shirt in green. Again, this can be from the girls or women's section. A V-neck style would work nicely so that you can make small holes on either side of the "V" to lace a leather shoestring through to create the lacing effect. You could also use brown yarn for this purpose of creating the lacing.
 Doublju Women Long Sleeve V neck Slim Simple Basic T-shirt Olive 2XLCheck Price
For the belt, some plain brown felt purchased from your local craft store can be used. Simply cut the felt the width you want your belt, and glue two pieces together to make it long enough, if needed. Glue on some Velcro closures to attach the belt in the back, as it will be covered with the furry vest like Hiccup wears. While at your local fabric and craft store, you can also purchase some brown, fuzzy, faux fur fabric. Simply cut out the pieces needed to create the simple vest. This project should require very little cutting and very little sewing, which could be done by hand or machine. One large piece for the back, with slight trimming around the neck area, and two smaller pieces for each front panel. Simply sew together at the top and at each side for several inches from the bottom. This will leave the arm holes and make for a comfortable fit. Refer to the photos for the correct appearance of the items so you can make yours as authentic as possible.
Deep Brown Short Style Textured Anime Costume Cosplay Wig by Cosplay Depot
This wig will make the perfect compliment to any Hiccup costume. Will really add that finishing touch! Brown, shaggy hair just like Hiccup from the movies.
 Deep Brown Short Styled Textured Short Length Anime Cosplay Costume WigCheck Price
Inspiration From YouTube
There are some interesting and informative videos that can be found on YouTube that will guide you in creating your own Hiccup Cosplay costume. This one shows the pieces in great detail and should provide some inspiration.
[youtube]http://www.youtube.com/watch?v=91FYERGnAdw[/youtube]
(Visited 1,413 times, 1 visits today)