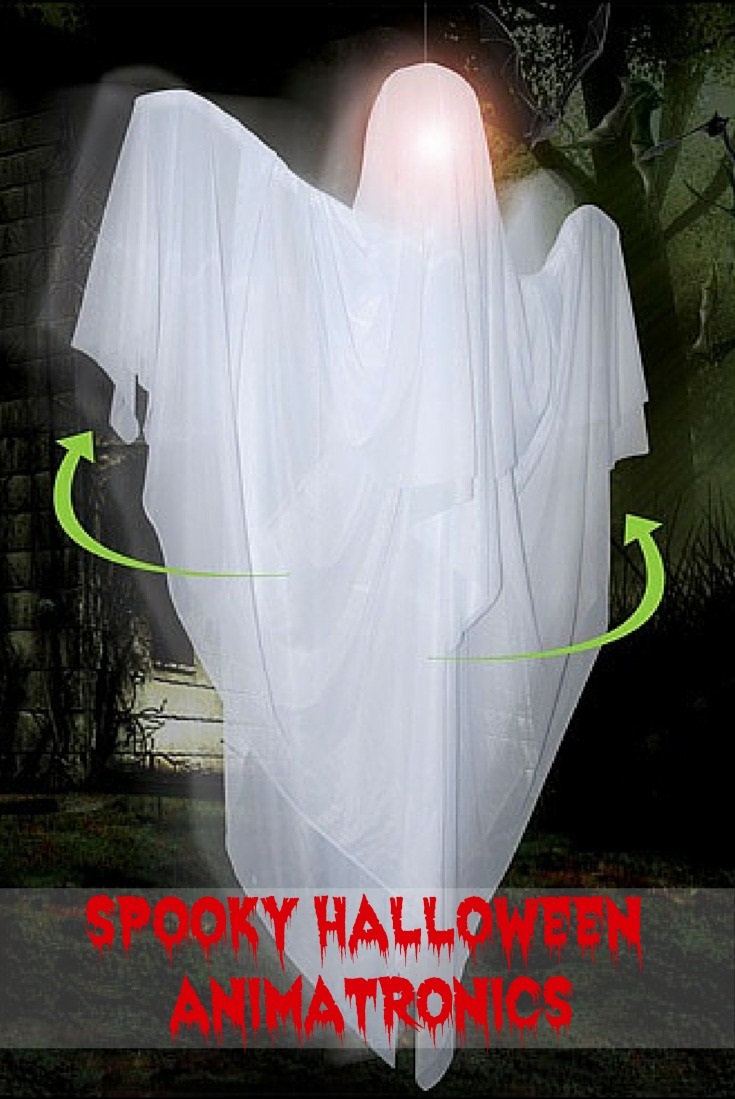 Halloween is the perfect time of year to really have a little fun with your home's interior and outdoor decor. Aside from the usual black and orange party decorations, spooky themes, and front yard "cemeteries," if you really want to turn the scare factor up a notch, consider Halloween animatronics. Animatronics are puppets or figures that move by means of an electromechanical device. These animated figures make the perfect finishing touch for traditional Halloween decor, and are essentials if you're turning your home into a haunted house for Halloween. Here we take a look at some of the great Halloween animatronics for this coming October.
Dropping Spider With Sound
Liven up any Halloween party or haunted house with this great animatronic spider that drops from a ceiling or doorway. Imagine your guests' surprise as they pay a visit to the punch bowl and this huge black spider with bendable legs that extend up to 38 inches drops down from the ceiling to greet them. Spider also makes spooky sounds, which makes this Halloween animatronics find even spookier. Requires 3AA batteries for operation.
Life-Size Animated Flying Witch
This spooky life sized witch with green complexion and white hair is ready to greet your guests while she flies on her broomstick. Great for placing near the front door as trick-or-treaters approach, or perhaps place her in a front window so everyone can see her. Witch measures 41 inches long by 183 inches wide and is sound activated. She has light up eyes and she cackles and utters a few spooky phrases. Uses 3AA batteries. Witch's head also turns from side to side. She is wearing a tattered looking black dress and pointed black witch's hat.
Life-Size Animated Flying Witch

The Exorcist Lifesize Regan
If you are looking for Halloween animatronics that will really freak your guests out, look no further than the life sized Regan character from the Exorcist film. Standing figure depicts Regan at her most possessed state. Figure comes dressed in a nightgown covered with the green "pea soup" substance, and head rotates while eyes light up. Plays music from the movie and character speaks memorable quotes from the film. Character has telescoping feet to make it more compact for storage purposes.
Standing Reaper With Wings
No Halloween is complete without an appearance from the Grim Reaper himself. This Reaper figure stands seven feet tall when fully assembled and has poseable arms and wings. He is sound activated and will give your guests a thrill when his eyes light up and he moves his head from side to side while moaning. Figure uses 3AA batteries, not included. Character is dressed in a long black cloak with hood, and has tattered looking wings for a creepy effect. Face and hands of the character are skeletal to make him one of the more scary looking Halloween animatronics.
30 Inch Gray Moving Zombie Prop
Zombies are super popular these days, so add this little guy to your Halloween animatronics collection! Looks like this poor guy might have on his way to office when misfortune struck, as he comes dressed ready to scare in a white shirt, black pants, and gray jacket. Zombie moves his arms and hands, has an evil laugh, and his eyes flash. Operates on 3AA batteries and stands thirty inches tall.
Hanging Rotating Ghost
This ghost looks just like your everyday common white apparition, until the animatronics come into play. Ghost measures 8 inches long , by 9 inches wide, by 13 inches high. Figures spins around and makes spooky sounds while his head lights up. Runs on 3AA batteries, not included. This would make a great addition to a front yard "cemetery" display, as it would look like the spirit was rising from one of the graves.
Animated Gargoyle
This animated gargoyle makes a great addition to your home decor for Halloween. Perch him where he can keep an eye on your guests and maybe give them a scare or two. Gargoyle measures around seven inches tall and makes eerie sounds, Figure's eyes light up red and wings flap. Gargoyle is sound activated. Uses 3 AAA batteries which are included.
Chopping Brock Animated Butcher
If you're interested in life sized Halloween animatronics, Brock the Butcher makes a great addition to your collection, coming in a six feet tall when fully assembled. Figure features animated motion and sound effects and will plug into any wall electrical outlet. Brock is dressed is shredded black pants, a long sleeved brown smock shirt, and a once white apron. Clothing of the figure is covered in blood splatters and his wields his meat axe in one hand. Figure has a creepy face with blood dripping from his mouth. Brock is certain to the hit of any Halloween party or haunted house.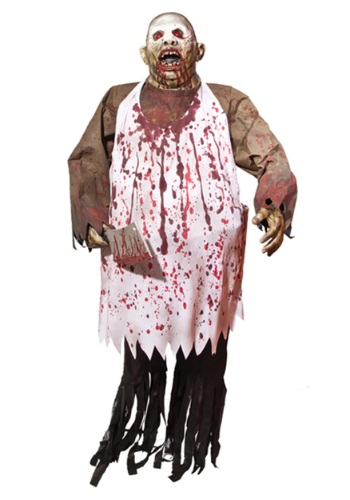 Chopping Brock Animated Butcher

Animated Slashing Bat
Creepy animatronic bat is motion activated and will respond with red light up eyes while he waves his claw hands back and forth. Bat features a brown fabric body and has red hair. Makes spooky noises when activated and moving. Hang this guy somewhere your guests won't quite expect it to give them the scare of a lifetime.
Bleeding Headless Corpse
This animatronic figure has really lost his head over Halloween this year. Figure measures 16 inches wide by 26 inches tall and is a ceramic statue with a lot of details. Figure has blue jeans, a white shirt, and is holding his own severed head in his hands. This figure has a pump that makes fake blood flow out from the injured neck. To set it up, simply mix water with red food coloring to create your own fake blood to ooze from the injury.
Animated Hangman With Kicking Legs
Perfect for either indoor or outdoor use, this hangman would be great hung from a tree, haunted barn, or anywhere. Figure measures 33 inches tall and has a bendable wire frame. He is motion sensor activated and will laugh, cackle, and move and kick his legs in either direction. Requires 3AA batteries. Figure is dressed in blue jeans, plaid shirt, with head covered and a noose around the neck which you can hang it from.
Animated Hangman with Kicking Legs

(Visited 902 times, 1 visits today)