Halloween is a fun time for throwing children's parties, but sometimes the scary themes can be a little too much for the younger crowd. If you want to have a kids' Halloween party, but want a kid friendly version, consider a fun theme like a dinosaur Halloween party for kids. All of the kids can dress up in dinosaur costumes for trick or treating or other party fun. Here are some ideas on how to get your party started. We will look at some great ideas for food, crafts, activities, and decorations to help make your party a success.
Invitations
To let your guests know about the party, first send out some cool invitations. These from Etsy are editable so you could change the birthday wording to Halloween instead. Print these 5 inch by 7 inch invitations at home from your printer, or request to have them printed. Design features a prehistoric looking background with several dinosaurs and the words "Rawrrr and stomp on over for a prehistoric celebration."
&
Decorations
Dinosaur Adventure Standard Kit Serves 8 Guests
This kit includes a set of 8 dessert plates, 8 cups, 16 beverage napkins, 8 spoons, 8 knives, and 8 forks. Order as many sets as you need to accommodate your number of guests. This makes a great choice for a dinosaur Halloween party for kids because the colors are darker and include black and orange. Perfect place settings for the theme.
Dinosaur Adventure Standard Kit Serves 8 Guests
&
Dinosaur Balloons Dinosaur Party Decorations Kids Party Balloons Stegasaurus Balloons
These fun balloons make great party decorations. For a dinosaur Halloween party, mix these colorful balloons with black and orange solid colored balloons for a fun and festive look. Balloon colors include light orange, purple, green, yellow, blue, pink, and red. Made from Qualatex premium latex.
&
Food Ideas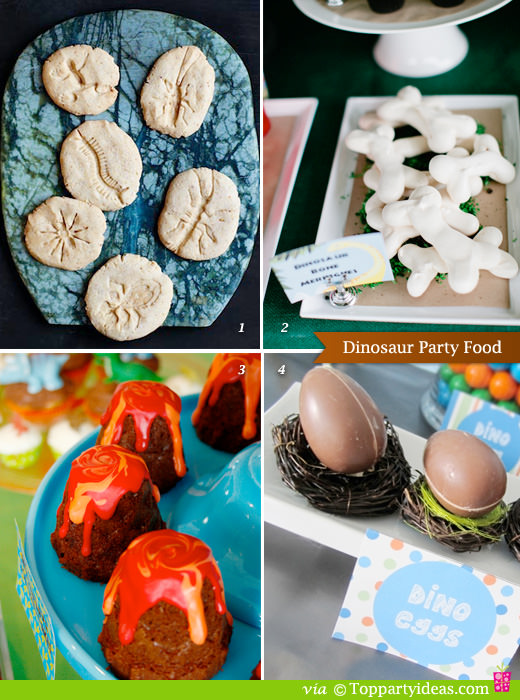 In keeping with the dinosaur theme, there are several fun food ideas to use for your party. Fossil cookies are a great idea. Simply make your own sugar cookie recipe or use pre-made dough and use small plastic toys to create the imprint of fossils in the cookies before baking. Easy, fun, and the kids will love them!
You can also create fun mini volcanoes for your guests to feast on by baking mini Bundt cakes and melting orange and red candies on top. Dinosaur eggs are also a big hit. Use hard boiled eggs and place them in mini bird's nests found at the local craft store. You could even make deviled eggs and place each half on the nest as if it had already hatched. For extra fun, place a little plastic dinosaurs on top as if it has just hatched. These recipes can also be found at TopParty Ideas.
Melt some white chocolate and dip in mini stick pretzels with mini marshmallows on each end to create your own dinosaur bones. A cute, fun, and tasty idea kids will happily snack up.
Dirt cake pudding cups are a simple idea to incorporate into your dinosaur theme. Take chocolate pudding and sprinkle the top with crushed Oreos or other sandwich cookies, and add a handful of nuts (if no nut allergies among guests) to create a rocky Jurassic ground cover. Stick a plastic dinosaur on top for a great treat.
Combine bagel bites with cheese cut into triangular shapes and baby carrots or carrot sticks and arrange them to create dinosaurs, Photograph shown provides everything you need to know to create this clever dish, which is both fun and relatively healthy. This could serve as the "main dish" party food and could be prepared on plates for all guests before serving.
Activities
Birthday Party Dinosaur Party Game (Game For 12 Players)
This is a Jurassic spin on the classic pin the tail on the donkey game. Game includes poster, twelve dinosaur head stickers, and a blindfold. Up to twelve players can play at one time.
&
Dinosaur Excavation Kit
Have the kids take turns digging up this dinosaur embedded in the rock. Kit includes a plastic glow in the dark dinosaur in a plaster "rock", digging tools, and twelve small dinosaur coloring books. Great for all ages.
Prextex Dinosaur Excavation Kit
&
Dino Meal — The Steal the Eggs Before the Dinosaur Lunges Game
Cute game for two to four players, perhaps take turns and have a few other games to rotate between to keep the kids entertained. Suitable for ages four and up. Players take turns pulling out each egg, trying to rescue them before the ferocious T-Rex leaps at them. Kids love the element of surprise, never knowing with which play the dinosaur will strike.
Dino Meal — The Steal the Eggs Before the Dinosaur Lunges Game
&
Dinosaur Crafts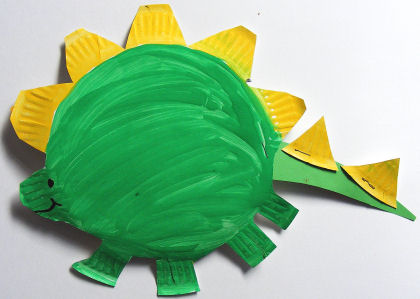 Crafts are always a hit with young children, especially when they relate to dinosaurs. Here are some great ideas for some simple, yet fun, ideas for crafts for a dinosaur Halloween party for kids. Use shells and other items to create fossils in clay, explore several ideas for using simple household items to turn into dinosaurs, etc. This page has several ideas for craft projects that will keep the kids entertained while also not breaking the bank of spending too much time on them. Explore the Activity Village web site for several creative ideas.
Coloring Sheets And Activity Pages
By simply doing a search of dinosaur coloring pages, you can find images of numerous coloring pages for the very young to slightly older child. Many of these images allow you to visit the web page from which they come and to download and print the file for free. This allows you to choose whatever pages you like and print as many as you need for the party.
Jurassic Park Movies
If your party crowd is slightly older and of appropriate viewing age, turn on the Jurassic Park movies and let them play in the background while the party goes on. This lets kids sit and visit and watch for awhile then move on to something else. This is a great way to ensure that no one gets "bored" and always gives the host a back up plan if the other activities are not holding their interest.

(Visited 407 times, 1 visits today)