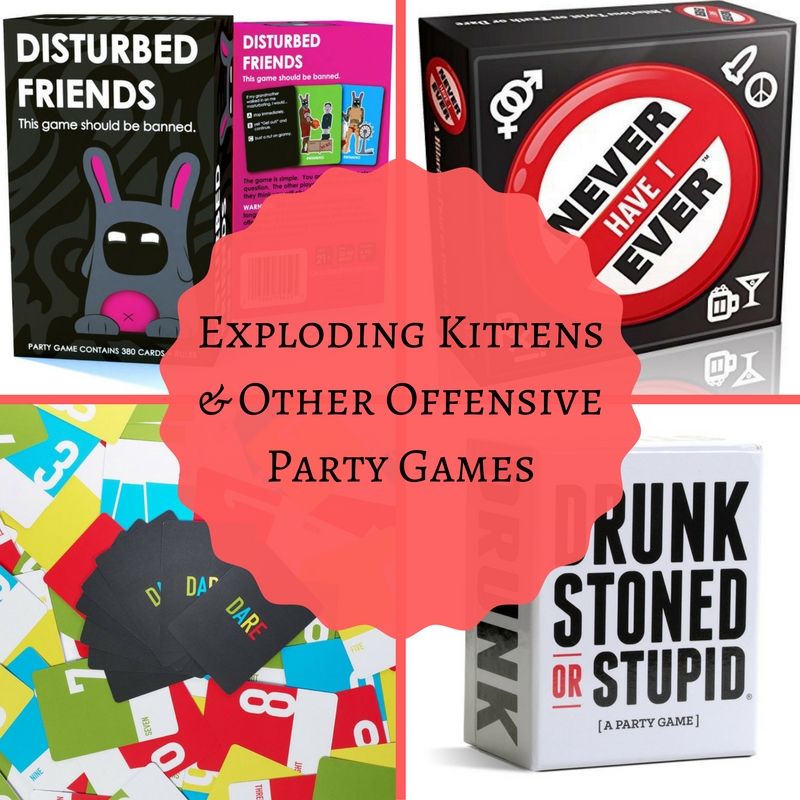 We all know about the traditional party games like Twister or Monopoly, but if you're looking for party games to actually offend your guests, all in fun of course, then look no further. If you have a sense of humor and want some less than traditional party games, consider games such as Exploding Kittens and others that are sure to make your guests gasp and giggle. Here we look at Exploding Kittens and other offensive party games.
Exploding Kittens: NSFW Edition (Explicit Content)
This card game is the crude kitty card game version of Russian Roulette. Contains slightly graphic artwork not for the faint of heart. This adult only card game is for 2 to 5 players, or combine with another deck for up to 9 players. This game is the most backed project in Kickstarter history and is illustrated by The Oatmeal.
Exploding Kittens: NSFW Edition (Explicit Content)
&
Poop: The Game
Family friendly yet slightly offensive to some, players take turns "pooping" but be sure not to clog the toilet. Various cards ask players to perform crazy acts. Perfect for the fun loving family or party goers who don't mind a little harmless "potty humor". For two to five players, and up to ten players when combined with the game's Party Pooper Edition. Game suitable for ages 6 and up.
&
Disturbed Friends – This Game Should Be Banned
Proudly dubbed as the worst game ever made, this games asks players 250 disturbing questions and has 100 offensive cartoon "winning" cards. Includes rules of the game and voting card for up to ten players. Take a vote on what you think your friends might do when placed in horrible situations. Face unethical debates, sexual scenarios, and horrible situations each time you play. First player to collect ten "winning" cards wins the game. For ages 17 and up only.
Disturbed Friends – This game should be banned.
&
Cards Against Humanity
Guaranteed to offend, this game claims to be a party game for terrible people right on the front of the box! An awkward game where during each round, one player asks a question from a Black Card and everyone answers the question with the funniest White Card in their possession. Have loads of laughs with this incredible party game. For ages 17 and older.
&
Never Have I Ever – The Classic Drinking Game for Adults
This game lets players discover funny stories and hidden secrets about their fellow players. Makes a perfect offending party game for fraternities, sororities, bachelor, and bachelorette parties. Game includes 358 outrageous questions that will let you see your friends in a whole new light.
Never Have I Ever – The Classic Drinking Game
&
Intervention – A Party Game for Everyone's Worst Habits
Get to know more about the people you call your friends with this hilarious party game that will have everyone talking about their worst habits and sharing their most ridiculous stories. Game includes 185 question cards, 12 voting booklets, 12 identifier cards, and 36 guessing cards. For up to twelve players of age 17 or older.
Intervention – A Party Game for Everyone's Worst Habits
&
Drunk Stoned or Stupid [A Party Game]
For four or more players of age 17 and over. Not a game for the easily offended as players will shamelessly call out their friends and be called out by their friends in return. Game includes 250 cards with classic and alternate rules. This game has no winners, only losers, but you are sure to have fun while you're losing.
DRUNK STONED OR STUPID [A Party Game]
&
Adult Loaded Questions
Get ready for a game night full of fun questions, crazy answers, and a lot of laughs in general. This game is for adults only and includes spinner and spinner board, 308 adult loaded questions, 55 VIP cards, answer pad, 6 pencils, and set of rules. Answer questions like "What would you NOT want to find in your partner's bedside drawer", and many more. For four to six adult players.
&
Drunko – Drink or Dare – Party Card Game
This game is an adult twist on a familiar card game that involves number and color matching. The DARE cards make players choose between taking on the dare or finishing their drinks. Some dares include lip syncing a song, talking dirty to an opponent, or running around the room half naked. Sure to provide lots of laugh and be slightly offensive, all in good fun.
Drunko – Drink or Dare – Party Card Game
&

(Visited 4,830 times, 3 visits today)