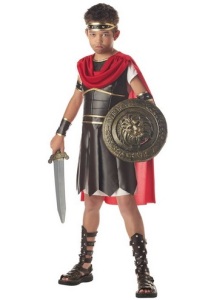 Most of us have heard about classic Greek mythology and the Roman adaptation of Hercules. Hercules is the son of Zeus and mortal mother Alcmene. Hercules was legendary because of his adventures and his strength that far surpassed that of a mere mortal man. Many movies and even television series have been done that feature Hercules, with the latest being the 2014 film entitled Hercules, that has Dwayne "The Rock" Johnson in the starring role. Due to the popularity of the film, there is bound to be a new interest in Hercules. This means with Halloween fast approaching, you can be sure many men and boys will be dressing as their favorite Roman demi-god. Here are some great ideas for putting together your own Hercules costume for Halloween, Cosplay, or other costumed events.
Kids Toys Gladiator Costume by California Costumes
Featured to the left: Gladiator Hercules
This children's costume in the multicolored option make an authentic Hercules costume. Features a 100% polyester tunic and body armor pieces, and non-leather material. This costume set includes shin guards, helmet, wristbands, and attached cape and shoulder guard. Combine this costume with Roman style sandals, and mandatory sword and shield to transform your child into Hercules for Halloween or other dress up fun. This costume is also available in a gray color option, but the multicolored option looks more like the Hercules attire from the 2014 movie.
Men's Gladiator Combat Shield and Sword 12″ Costume Accessory by California Costumes
Featured right: Gladiator shield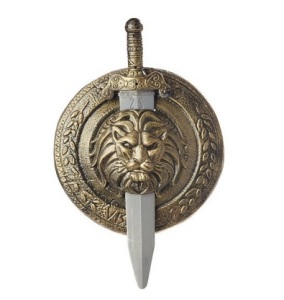 This gladiator combat shield and sword are made from 100% plastic and makes the perfect accessory for any Hercules Halloween or Cosplay costume. Perfect for the above mentioned children's costume or for a men's Hercules costume. Shield is round and an antiqued gold color, with detailed leaf edging along the border. A lion's head, similar to the head piece worn in the new Hercules movie, graces the center of the shield. Sword is a silver gray color with an ornate gold colored handle.
Men's Hercules Costume by Dreamgirl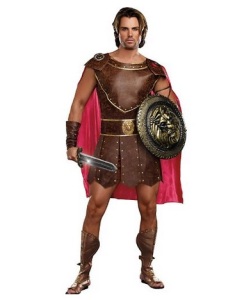 For the adult who wants to portray Hercules, this costume is made from 100% polyester and includes the arm ties and wrist gauntlets. Costume is a brown tunic which resembles leather and contains gold trim details. Includes and attached belt and red cape attached at the back. Costume can be paired with gladiator style sandals and accessorized with the shield and sword mentioned above for a perfect Hercules look. Comes in men's sizes medium through XX large.
Featured left: Men's Hercules costume
Men's Gladiator Sandals by Ellie Shoes Inc.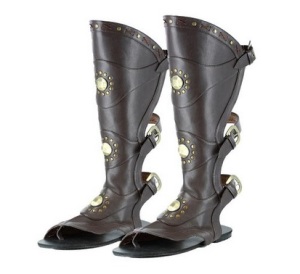 These gladiator sandals are the perfect compliment to make any men's Hercules costume complete. Constructed from polyurethane, these sandals are available in either brown or black. They have a full front that features open toes and come up to a few inches below the knee. Sandals secure in the back using three straps with buckles. Front of sandals are adorned with gold colored accents, matching perfectly with the Hercules costume from Dreamgirl. Design includes three sections with a large golden circle surrounded by several smaller golden circles.
Featured right: Gladiator sandals
Men's Conan the Barbarian Wig by Rubie's Costume Company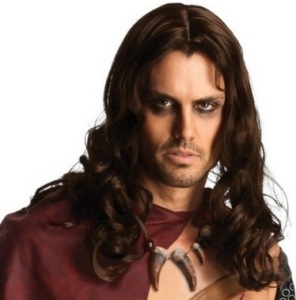 This Conan the Barbarian wig will also serve well as a Hercules wig. Made from synthetic hair, this long brown wig will really get you into character for your Cosplay or Halloween fun. Pair with a matching beard and mustache or grow your own if applicable, to give you the look of Dwayne Johnson starring as Hercules in the new 2014 film.
Featured to the left: Conan the Barbarian wig
Beard and Mustache by Century Novelty
This fake beard and mustache can be worn by either a child or adult and fits around the head with an elastic strap. Although a little bit bushier than the bearded look of Hercules in the new motion picture, this is a relatively inexpensive accessory that you could probably trim down a bit to look more authentic.
Kids Roman Sandals by Forum Novelties
These Roman Sandals are listed as child's sized but all of the customers who have purchased them claim they will only fit toddler sizes. So if you have a toddler portraying Hercules this Halloween, these should work well.
Marc Anthony Children's Costume by RG Costumes
This costume is intended to be a Marc Anthony costume but would also work well as a Hercules costume. Includes a tunic with a belt, plastic armor, and plastic helmet. Has little wrist guards and pieces that go over the legs from the ankle to below the knee, that when worn with regular brown sandals resembles Roman style sandals. Costume does not include shield or sword.
Roman Armor Child Costume Kit by Forum Novelties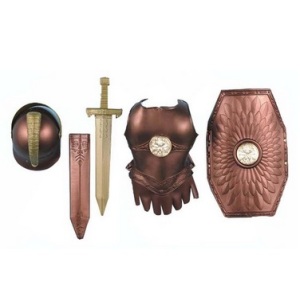 This play set includes a plastic body armor chest plate, sword and scabbard, helmet, and shield. All of these pieces, excluding the helmet, can be used to create a great Hercules costume for dress up or Halloween fun. To make things really simple, instead of investing in an actual Hercules costume, the child could simply wear a very large brown tee shirt that comes just above the knees an place the body armor over it to create the look of a tunic. This would be an inexpensive way to create your own Hercules costume by using some simple accessory pieces.
Featured: Roman Armor Kit
Create Your Own Costume Using Separate Pieces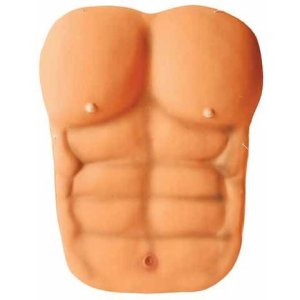 If you're not a big fan of the style of the pre-made complete costumes available, you can take separate pieces that you do like and make them into one really terrific costume. By combining some simple pieces you can create an authentic looking Hercules costume for an adult. Use the Muscle Man Chest Plate by US Toy under the plain black men's tunic costume for a great Roman look. Pair with the inexpensive Roman Gladiator Sandals by Forum Novelties and accessorize with shield and sword. Roman apron and belt can be added to tunic for a more authentic Roman/Hercules look to complete the costume. This is a man made leather belt with studs made from 100% polyester. Combining all of these separate pieces together will make a perfect Halloween costume for an adult going as Hercules.
(Visited 891 times, 1 visits today)