The kimono is a traditional Japanese garment, similar to a full-length robe with long, wide sleeves. Japanese kimonos are typically worn for formal occasions as well as at important festivals. Aside from the traditional uses of the garment, Japanese kimonos are also often worn by women of all ethnicities as a comfortable robe or lounging outfit. A Japanese kimono costume is also a popular choice for dressing up for Halloween or Cosplay. Here we look at some of the beautiful kimonos that can be purchased ready made, along with a few ideas on how to create your own Japanese kimono costume.
Black Japanese Kimono Costumes
This women's Japanese kimono costume is made from silk fabric in the color black. Features a traditional Japanese style design with the colors gold, coral, and teal. Back of kimono has a square with a bow at the waist. Collar and waistband are trimmed in yellow. Kimono length is 49 1/4 inches, with 13 inch long sleeves that hang down past the waist.
Traditional Japanese Kimono Costumes
Made from silk-like fabric, these traditional style kimonos are available in the colors red, black, light sky blue, and royal blue. Each color of kimono features a large print floral design in white, pink, and teal colors. Kimono has a wide fabric waistband and collar is trimmed with yellow fabric. Ankle length with sleeves that hang to mid-thigh level. Suitable for weights ranging from 40 to 70 kg and heights of 63 to 69 inches.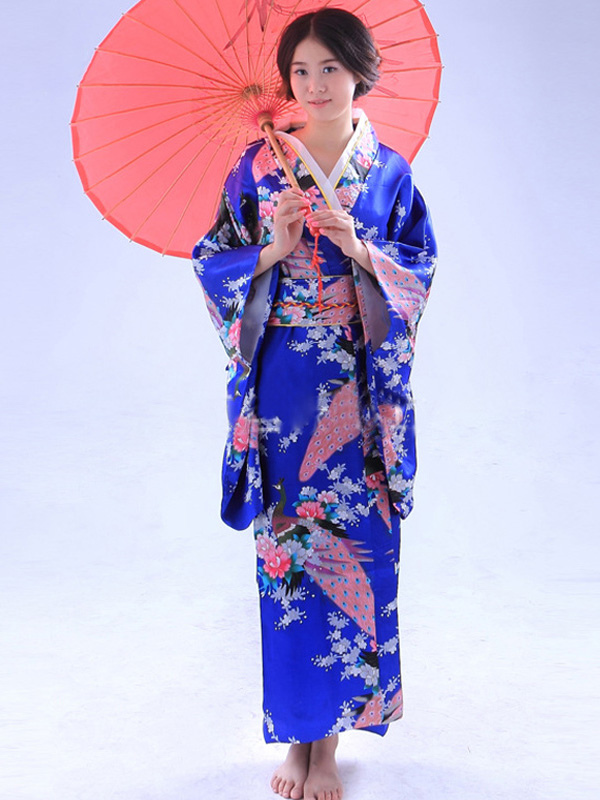 Traditional Japanese Kimono Costumes

Vintage Green Japanese Kimono Costumes
This kimono is made from satin fabric and features a wide waistband and floral print design. Fabric is printed all over with large floral pattern in various shades of green, subtle yellow, and pink colors. A comfortable kimono with a vintage look. Fits those 40 to 70 kg in weight and 63 to 69 inches tall.
Deluxe Japanese Lady Wig
This is a black wig done up in geisha style with the large bun on top. Wear with a pretty kimono and add some hair sticks and a fan for an authentic look for Halloween or Cosplay. Wig is ten inches tall with synthetic fiber construction and black hair is knitted into the bun.
Women's Red Kimono
This standard size, full length, red satin kimono is made from 100% polyester and features gold designs with cherry blossoms. Has over-sized drop sleeves and a yellow obi-style belt with Velcro fastener. Back of kimono features a large bow that attaches with Velcro.
Kimono Robe for Kids | Japanese Traditional Costume
This child's Japanese kimono costume is made from polyester fabric and is offered in either pink or red. Costume includes the robe, belt, and back band with bow. Measures 51.2 inches long. Features the pretty print of a peacock and flowers in various shades of pinks, white, and teal.
Pair of Hand-Carved Hair Sticks
The perfect accent for any Japanese style up do or Japanese geisha style wig. Add the hair sticks for the finishing touch. This is a hand carved traditional hair accessory made from all natural materials.
Silk Folding Fan Favors
When wearing a kimono, especially for Halloween or Cosplay, it is important to have the right accessories which would include a wig, hair sticks, fan, or parasol. This is a classic folding Japanese style fan which adds a special touch to make your costume look more authentic. This particular design features pink cherry blossoms on a tree branch. There are a multitude of different designs to choose from so that you can color coordinate the fan with your kimono.
Delicate Cherry Blossom Silk Folding Fan

Japanese Umbrella Parasol
This parasol is 21 inches long when folded and about 32 inches in diameter when opened. Makes a perfect accessory for carrying when wearing a Japanese kimono costume.
DIY Kimono Tutorial
This tutorial uses a large scarf to create a kimono. Features a narrated, full color video tutorial with step by step instructions. This tutorial requires a bit of pinning and minimal sewing on a sewing machine which could also be done by hand if desired.
[youtube]https://www.youtube.com/watch?v=dlDIW7OkfSk[/youtube]
Colorful Geisha Look – Makeup & Hair Tutorial + How to wear Kimono
This is a step by step video without narration that shows the application of geisha inspired makeup. The girl in the video does a very pretty makeup effect on the eyes and lips and then demonstrates how to put long hair up into a traditional Japanese look. After the hair is up and pinned into place, she then adds flowers and several hair sticks for a very pretty and dramatic look, then accents the hair with some accessories. She then shows us how to put on and wear a traditional Japanese kimono costume.
[youtube]https://www.youtube.com/watch?v=3VxdpTBKYbg[/youtube]
Bleach Kyoraku Shunsui Kimono Cosplay Costume
This kimono is slightly different than the "traditional" style, and can be purchased in sizes ranging from female Plus extra small through female Plus XXXL. Item can also be tailor made for an additional charge. Garment is made from a pink fabric made from 65% cotton and 35% polyester. Kimono has 3/4 length sleeves and features a floral print with cactus motif. Fun and versatile! Kimono is printed only on upper half, while bottom half is simply a solid pink color.
Bleach Kyoraku Shunsui Kimono Cosplay Costume

Flower Hairpin for Kimono
This pink hairpin is 4 inches long and 3.5 inches wide. Features both a yellow and pink flower blossom and white lace. Looks very pretty when worn as an accent for the hair when wearing a kimono costume.
Red Sexy Kimono
This is not a "traditional" kimono, but a short, sexy Japanese kimono style that might be worn as a robe with lingerie. Fits bust sizes 32 1/4 inch to 33.5 inches, 26 to 27.5 inch waist, and 34 3/4 to 36 1/4 inch hips. Made from red synthetic fabric with a white floral print. Kimono comes to several inches above the knee and comes with a white tie at the waist.
(Visited 2,702 times, 1 visits today)