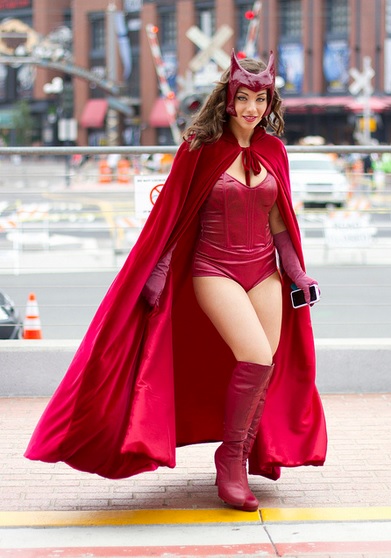 The Scarlet Witch is a fictional Marvel comics superhero whose alter ego is known as Wanda Maximoff. She made her first appearance in the X-Men in 1964 and continues to appear in the Avengers as one of the regular team members. The Scarlet Witch is a mutant who possesses the ability to alter reality. The most recent appearances of the Scarlet Witch character appear in the Marvel Studios films Captain America: The Winter Soldier and the upcoming Avengers: Age of Ultron. While there don't seem to be any ready made costumes of this character available, you can piece together various items to make your own authentic looking costume. Here we take a look at how to put together your own Scarlet Witch costume for Halloween, Cosplay, or other dress up fun.
Red Sparkle Tights
You can begin building your Scarlet Witch costume with these great red sparkle tights. Made from 65% nylon and 35% Lurex, these tights are a deep red color and feature a metallic sparkle shine. The perfect touch for a superhero!
Sexy Red And Gold Superhero Boots
These red high heeled superhero boots are available in sizes 6, 7, 9, and 10. Boots have a five inch heel and measure 20 inches in height, coming near to the knees. Boots feature side zippers and gold detailing along the top. If you didn't want the gold color to show to make the Scarlet Witch costume look more authentic, you could put red duct tape over the gold parts to easily conceal it. Boots come up to an inverted "V" shape at the top. Great boots for portraying your favorite Avengers character.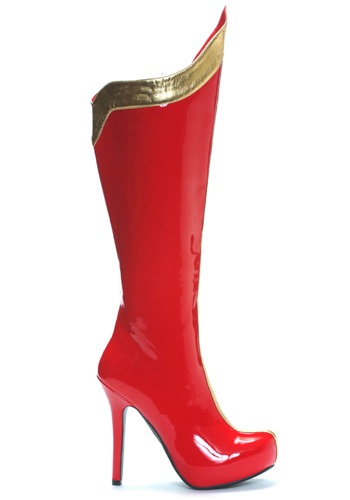 Sexy Red and Gold Superhero Boots

54-Inch Fully Lined Deluxe Red Cape
This is a one size fits most adults cape with stand-up collar. Cape is made from double layers of stretchy, smooth polyester fabric. Cape measures 54 inches long and is fully lined. Makes a great costume cape for the Avengers Scarlet Witch superhero character. Cape ties at the neck.
54 Inch Fully Lined Deluxe Red Cape
&
Sexy Leather Punk Bustier
This red corset is available in sizes ranging from small all the way up to size 6XL. Great red color will make you look just like the Scarlet Witch from the Avengers movies. Pair with red bottoms, red tights, red boots, and red cape for a great superhero look. Corset features front zipper from bottom to top. Use the Fedo corset size chart available on the product description page as opposed to the Amazon sizing chart to ensure a proper fit.
Leather Punk Zipper Bustier Red
&
Women's Mojito Bottom
This is a full coverage bottom that features an adjustable waistband that folds over. Made from chlorine resistant fabric consisting of 87% nylon and 13% Elastine. Fabric provides UPF 50 sun protection. The red pomegranate color makes a great bottom half for the main part of the Scarlet Witch costume when paired with a red corset.
LOLE Mojito Bottom, Pomegranate
&
Elbow Length Red Gloves
This long pair of red satin gloves will help you get into character when portraying the Scarlet Witch from the Avengers movies. Gloves come to the elbows and measure nineteen inches long. Opening stretches from 8 inches to about 11 to 12 inches.
&
Women's 80cm Long Wavy Cosplay Wig, Black
This great wig is made from synthetic fiber that can be trimmed according to the shape of your face. Includes a free wig cap that can be adjusted to the correct head size to be worn under the wig. Easy care, item can be washed in cold water and allowed to air dry. Wig can even be permed (if below 200 degrees) or dyed to a different color. Natural looking hair, making it the perfect wig for Cosplay fun. Add this wig to the rest of your Scarlet Witch costume pieces to transform yourself into the superhero character for a night of role playing fun.
&
Scarlet Witch Headpiece Tutorial
This video tutorial will take you through the entire process of creating and designing an authentic looking Scarlet Witch headpiece to wear with your costume. Detailed instructions are given on patterning the headpiece, cutting out the pattern, forming it to fit your face and be more dimensional, and finishing the headpiece. This project involves taking a few simple measurements to obtain the correct fit.
Materials needed for this project include a tape measure, large piece of paper to make the template, marker, scissors, hard cutting surface, box cutter, heat gun, card stock paper, red spray paint, clear elastic, hot glue gun, and PVC sheet or Sintra (brand name of PVC). You will also need a small type of hand sander in order to finish off and smooth out the rough edges.
Full instructions are both spoken as well as displayed as a very detailed video tutorial where the crafter takes you through the entire process, explaining each step thoroughly. Easy to follow instructions, even for a beginning crafter. This headpiece looks very authentic and is the perfect finishing touch for any Scarlet Witch costume. Combined with all of the above mentioned finds, your costume will look great for either Halloween or Cosplay.
[youtube]https://www.youtube.com/watch?v=qTsxsoRKt1s[/youtube]
Scarlet Witch Costume Tutorial
This is a very short video tutorial that touches on the Scarlet Witch makeup style, hairstyle, making the headpiece from felt and an elastic headband, and putting together the various pieces of the costume. Cute ideas that provide inspiration for making your own costume, along with helpful hints on what items to use and where to find them.
[youtube]https://www.youtube.com/watch?v=QXlOsr9kJIs[/youtube]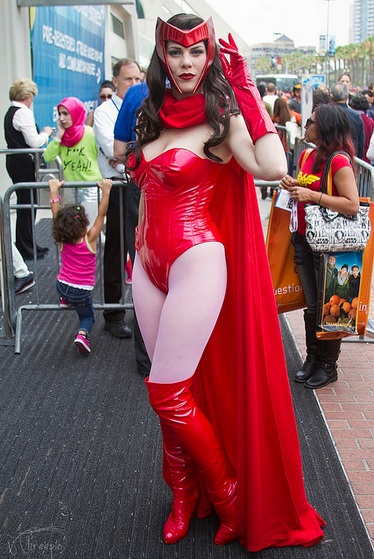 (Visited 2,161 times, 1 visits today)