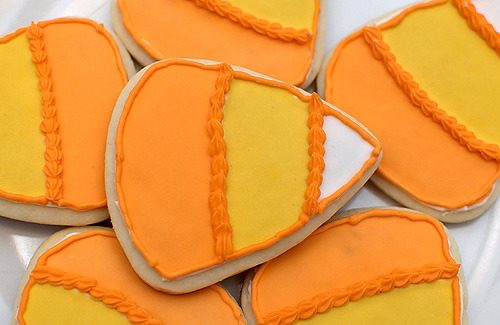 Halloween is a fun-filled holiday and among the most festive means of celebrating this spooky holiday is by organizing parties. These parties are a great way to mark this season, especially for kids. To host an ideal Halloween party for children, you should provide plenty of festive decorations, kid-friendly food and, of course, fun games for kids parties so that the kids can be adequately entertained. Fortunately, there are many games to play at a kids' Halloween party to choose from as you plan party activities. to choose from as you plan party activities. The important thing is to make sure that the game you choose suits the age bracket of the kids invited to the party.
Featured: Candy Corn Cookies made with Wilton Halloween Metal Cookie 18-Piece Cutter Set
Bobbing For Apples
A Halloween party cannot be complete if it lacks the classic Bobbing for Apples game. This children's Halloween party game is a perfect option for your party because it can be easily adapted to almost all ages. This is a great game idea regardless the ages of the kids coming to your party. All you require to set up this game is a big metal tub, which is filled with water to about two to three inches from the top. Small-sized apples are then added to the water just before the play begins. The game is all about kids taking turns to try and catch an apple with their mouths only.
Hot Pumpkin
This Halloween party game idea which is themed on the classic kid's party game, Hot Pumpkin, Hot Potato is a simple and easy-to-follow choice. The materials that you require to play this game are a CD player with a kid's Halloween CD and a small pumpkin. When playing Hot Pumpkin, the kids will sit in a circle with their legs crossed and they pass the small pumpkin to the kid seated their right at the same time the music is playing. The child with the pumpkin when the music is stopped is out. You should play until you have only one child left, who becomes the winner.
Bean Bag Toss
Halloween Bean Bag Toss is a classical carnival favorite that also makes a fun and competitive option for a Halloween party game for kids. To set up this bean bag toss, you should make a large pumpkin from sturdy foam board or plywood and cut out big holes on it to create the jack-o-lantern's nose, mouth and eyes. This party game is most suitable for outdoor parties but can be played indoors as well, provided there is enough space and no breakable things nearby. To play this game, kids stand at a determined distance from the cutout and attempt throwing the bean bags through a hole in the cutout. Kids who succeed in getting their bags in a hole become winners.
Pin the Tail on the Cat
This is also a good choice for a children's Halloween party game. All you do is tape up a big poster of a big black cat that is missing its tail. To take part in this game, kids take turns to be blindfolded and try to pin the provided paper tail on the black cat as close as possible to where it belongs. The kid who pins the provided tail closest to its place becomes the winner.
[youtube]http://www.youtube.com/watch?v=ABlA6IxLZjs[/youtube]
(Visited 509 times, 1 visits today)