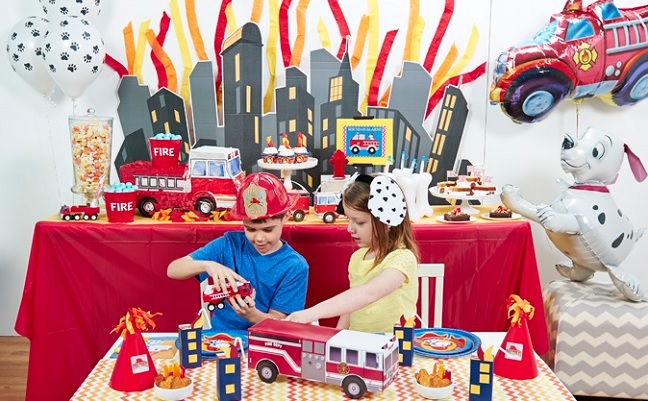 If you are planning a Halloween party for young children and don't want to make things too spooky for them, consider a kid-friendly theme instead of a traditional Halloween one. Instead of the usual ghosts, goblins, and ghouls, why not have the kids dress up as firemen (and women)? This will keep things from getting too scary for the littlest ones, while at the same time still allowing the kids to have a costume party and everything that goes with it. Instead of the traditionally spooky theme, all games and party items will instead feature a fireman theme. Here are some great ideas for planning a fireman Halloween party for kids that is sure to be a big Halloween hit.
Children's Fireman Costumes
First of all, every child will need their own fireman costume to participate in the Halloween fun. Here are a few nice suggestions from toddler sizes on up.
For the youngest firemen, this Toddler Firefighter Costume fits ages one to two years old. This costume consists of a red jumpsuit with bright yellow stripes, made from polyester fabric. Jumpsuit fastens with Velcro in the back for easy on and off. Costume comes with a red foam hat and a junior firefighter badge. Perfect costume for the tiny party guest.
 Toddler Firefighter Costume

The Kids Firefighter Costume comes with overalls, overcoat, and helmet and is available in kids' sizes 3, 6, 8, and 10. Costume is made from 92% cotton, 3% leatheroid, and 5% polyester blend fabric. Features working pockets, adjustable overall straps, zip up jacket front, and buttons with bronze hook. Fireman helmet is plastic and has a circumference of 17 and 1/2 inches to 22 inches.
 Kids Firefighter Costume

The Child Black Fireman Costume is available in sizes small (fits 4 to 6), medium (fits 8 to 10), and large (fits 12 to 14). Includes jacket, overall pants, and hat. Made from 100% polyester, this costume features a black jacket with reflective stripes in neon green on sleeves and chest. Jacket features zipper and snaps. Overalls have adjustable shoulder straps and thigh straps and also have reflective neon green stripes. Comes with a black foam fireman hat with fire chief emblem on the front.
 Child Black Fireman Costume

Add cute accessories to make the costume complete, such as this Deluxe Axe made from plastic. Axe is 24 inches long and has a wood-look handle and a red axe head.
 Deluxe Axe Accessory

Planning The Party
After costumes have been decided, now you'll need supplies and ideas for the fireman party for kids. The Little Fireman Snack Party Pack from Birthday Express includes everything you'll need for serving your young guests. Party pack includes 8 plates, 8 nine ounce paper cups, 20 Little Fireman napkins, 8 yellow forks, and 8 yellow spoons. Cups feature blue background with red fire truck, plates feature blue with Dalmatian fire dog wearing fire hat in center of plate, and napkins have the Dalmatian fire dog with hat.
Little Fireman Snack Party Pack Bundle

Instead of purchasing all of the party favors for your guests separately, these great Little Fireman Filled Party Favor Boxes from Birthday Express include everything you need, all complete with a fireman theme. The fire truck shaped box with ladder handle holds a fire trucks sticker sheet, flashing round light, whistle, fire dog paddle ball toy, and fire engine truck toy.
Little Fireman Filled Party Favor Box

The Fire Trucks Pinata from Birthday Express makes the perfect addition to the Halloween party. Shaped just like a fire truck, the pinata is 19 inches tall and has a hidden location where you can stuff it full of Halloween candy and other goodies.
 Firefighter Hat

 Fire Engine Pinata

 Firefighter Napkins

 Firefighter Garland

 Firefighter Tattoos

 Fire Truck Plates

 Fire Station Whirls

 Firefighter Balloons

 Fire Hydrant Holder

 Firefighter Noise Maker

Fire Truck & Station Cake Decoration

Fireman Craft Ideas
No fireman party for kids would be complete without crafts. The Fire Trucks Foam Activity Kit will keep little hands busy and entertained for awhile. For ages six and over due to small parts. Each kit contains a total of 12 pieces that will make the complete fire truck, wheels, ladder, etc.
The Printable Firefighter Craft is great because it has cut outs for both a male and female firefighter so all of the party guests will feel included in the party theme. Have the kids cut out the shapes and either paint or color their own fire person. Simply click on the "Open Firefighter Printable" link on the page and print out as many copies for the craft sheet as needed. A craft stick could even be added to the back of the firefighter to create a puppet.
For another fun craft project idea, try the Fiery Tissue Paper Lantern Craft. For this project, you will need one small glass jar per child (maybe save jelly jars for this reason), sparkly Mod Podge, a paintbrush for each child, and several squares of red, orange, and yellow tissue paper. You will also need as many LED flameless tea light flickering candles as their are children present. No actual fire or flames are involved, just the look of a fire burning inside the lantern.
The Fire Dog Cup Puppet is an easy to make Dalmatian fire dog created from a Styrofoam cup. You will also need dog patterns (included in the instruction and accessible by clicking on a link for printing), red and white construction paper, black marker, small black pompom, and wiggly eyes. If making the firefighter craft into a puppet, after the kids get done with both crafts, perhaps you could put on a little puppet show with all the guest participating with their own firefighter and fire dog puppets.
Another great craft idea for a fireman party for kids is to make your own fireman hats using red, white, and black craft foam sheets. The Firefighter's Hat craft includes instructions, full supply list, as well as links for printable patterns for both the front and back of hat.
(Visited 10,400 times, 1 visits today)