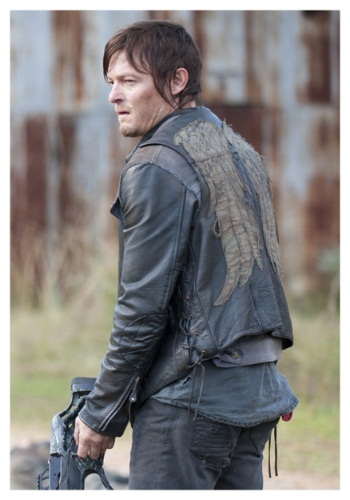 The Walking Dead is one of the most popular and talked about television shows that has come along in years. With that being said, it's no wonder this acclaimed AMC television series has created a huge fan base for the fictional character of Daryl Dixon. Known as the volatile, yet experienced hunter and tracker who has a way with a crossbow, this popular character makes a great costume idea for Halloween or Cosplay. Here are some ideas for putting together a great Daryl Dixon costume.
Walking Dead Daryl Dixon Leather Vest
For those who really want an authentic look perfect for Cosplay, this 100% leather vest with polyester lining is the perfect find. Sleeveless vest with V-neck style features four snaps in front and two pockets. Black vest has adjustable leather tassels on each side of vest. The back of the vest features the emblem of two wings splattered with blood stains. This vest will truly give you the "tough guy" look that Daryl Dixon is known for. Offered in men's sizes large and extra large.
 Walking Dead Daryl Dixon Leather Vest

Walking Dead Big Men's Big Faux Leather Satin Lined Embroidered Wings Vest
Made from 50% vinyl and 50% satin, this faux leather vest is a less expensive alternative to the real leather vest. Vest features black faux leather with satin lining and can be dry cleaned. Back of the jacket features an applique of the embroidered wings, complete with a splash of zombie blood. This vest is offered in men's sizes ranging from small to extra large, as well as in big men's sizes ranging from 2X Large to 5X Large. Front of vest features four black snaps, but no pockets. Perfect for a Daryl Dixon Halloween costume. These pictures show the front and back views.
 Walking Dead Men's Big Faux Leather Satin-Lined Embroidered Wings Vest, Black, Small
 Walking Dead Men's Big Faux Leather Satin-Lined Embroidered Wings Vest, Black, Small
Daryl Dixon Official Walking Dead Face Mask
Mask is a high resolution image printed in 2D on high quality card. Mask is machine cut with eye holes and comes ready to where with an elastic cord.
 Daryl Dixon – Official Walking Dead Face Mask
Toy Crossbow by Bear Archery
For the young Daryl Dixon portrayer, this fiberglass toy crossbow set is the perfect accessory. Includes three darts and target for shooting practice to help develop archery skills. Crossbow is black and measures 24 inches by 9.5 inches by 2 inches and weighs 1.2 pounds. Adult supervision is required when using the darts, but the bow itself makes a great prop for a terrific looking Walking Dead costume.
 Bear Archery Toy Crossbow
Rocket Man Blond Pop Star Wig
This is a 100% synthetic wig that fits most teens or adults. It is dark blond and if messed up a little before wearing, makes a pretty good Daryl Dixon style haircut. Grow out your own beard and mustache a bit for Daryl's scruffy look, or create the look of a scruffy beard with some makeup for an authentic look.
 Rubie's Costume Rocket Man Blond Pop Star Wig, Brown, One Size
Men's Classic Slim Button Up Plain Dress/Casual Cotton Shirt
This simple 100% cotton solid color shirt features a button front placket and long sleeves with a single cuff. Comes in sizes medium, large, extra large, as well as 2X large and 3X large. Shirt colors of Army, Brick Red, and Khaki would work well for a Daryl Dixon costume. Shirt could either be worn with the sleeves along with the trademark vest, or sleeves could be cuff off and edges could be frayed a bit to wear alone or with the vest.
 JEEPFALOW Men's Classic Slim Button Up Plain Dress Casual Cotton Shirt
Men's Raider Soft Toe Work Shoe
This work shoe/boot is a rugged looking boot similar to those worn by The Walking Dead's Daryl Dixon character. Leather shoe with manmade sole is oil resistant and features a lace up style. Available in sizes 7 through 14.
 Dickies Men's Raider Soft Toe Work Shoe
Men's Casual Military Army Style Cargo Pants/Trousers
These cotton blend zippered pants come in a variety of colors such as black, gray, khaki, and army green, which would all make good choices for putting together a Daryl Dixon costume for Cosplay or Halloween. Features pocket in the front, back, and two pockets on each side of each leg.
 Juanshi Mens Casual Military Army Style CARGO CAMO Combat Work Pants Trousers- Size 36 – Color: black
Dixon Project Pro/Daryl Dixon Angel Wing Vest
After one minute of nothing but song, this video tutorial shows viewers how to create the angel wings using fabric and a fabric marker and the actual brand of vest worn by the actor, the Wilson's Leather street legal black leather vest. (Of course, any leather or faux leather black vest would work.)
[youtube]https://www.youtube.com/watch?v=4eW_Y5rkeL4[/youtube]
How to Make a Homemade Crossbow
In this video tutorial, it shows viewers how to make a crossbow that looks like Daryl Dixon's from The Walking Dead. This tutorial makes an actual crossbow that can be used. Just don't shoot fellow cosplayers.
[youtube]https://www.youtube.com/watch?v=ywTydm0qecs[/youtube]
Make Your Own Daryl Dixon Costume
It's easy to make an authentic looking Daryl Dixon costume for either boys or men by using fairly common clothing items. Any black leather or leather looking vest with a v-neck will work, along with any tee shirt or long sleeved collared button up shirt in a khaki, gray, or black color. Worn black jeans are perfect, and if they have a hole in the knee, even better. Old work boots in black or dark brown fit in perfectly as well. If using a tee shirt, simply cut off the sleeves. Almost any of these items could be found inexpensively at a thrift shop because they are basic, plain colored clothing items. The wings can be made from simple white fabric purchased at a craft and hobby store such as JoAnn or Hobby Lobby. Here is a good tutorial with pictures to guide you through the wing making process. A crossbow also makes the perfect prop for this costume, such as this one found on Amazon.
 NcStar Crossbow with Red Dot (CD)
Obviously, don't carry any of the actual arrows when using as a Halloween, Cosplay, or costume accessory, to avoid risk of accidental injury to someone. (Children's toy crossbow mentioned above.)

(Visited 854 times, 1 visits today)