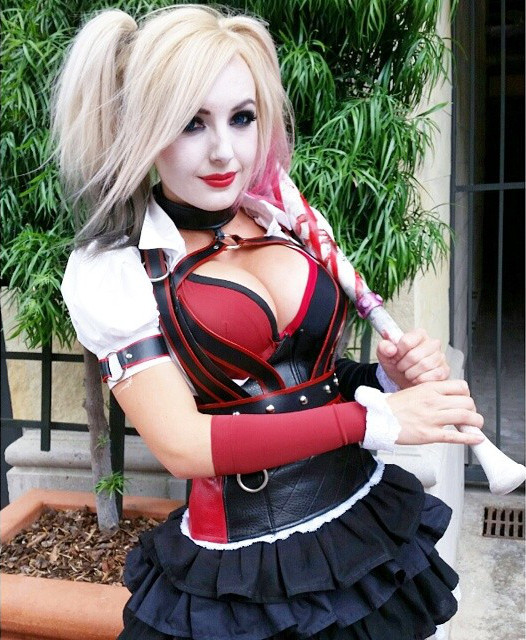 Dr. Harleen Frances Quinzel, M.D., better known as Harley Quinn, is a fictional character of DC Comics. Harley Quinn is an adversary of Batman, as well as the accomplice and girlfriend of the Joker. Rumor has it the two met while the Joker was a patient at the Arkham Asylum where Quinn worked as a psychiatrist. The character's name is taken from the word "Harlequin," as she wears black and red outfits similar to that of a Harlequin. As a popular female additional to the superhero and villain scene, Harley Quinn makes a great character to dress up as for both Halloween and Cosplay. Here are some great ideas for putting together a Harley Quinn cosplay costume this year, with both ready-to-wear and do-it-yourself ideas.
Harley Quinn Costume – Arkham City
This costume includes the top, choker, pants, glovelets, and belt. The costume is based off of the character's look in the video game called Batman-Arkham City. This has a short top with shows the belly, with what looks like a bra and corset together. One side of bra is red, the other black. Glovelets have black, fingerless hands and the rest is red and reaches just part the elbows. Pants have one red leg and one black leg, with pattern reversed on the back side. Diamond shaped patterns appear in opposites colors on the thighs of the pants. Costume is available in sizes extra small, small, medium, and large.
Arkham City Adult Harley Quinn Costume
Arkham City Adult Harley Quinn Cosplay Costume
&
Lace Up Boot

Family Make Up Kit

Harley Quinn Adult Women's Costume
This great Harley Quinn look features a strapless sweetheart dress with white ruffled trim. Includes a Jester style headpiece that is half red and half black, with white pom poms on the ends and a black mask. Costume also includes thigh high stockings, one red with a black diamond pattern, the other black with a red diamond pattern. Also includes a pair of glovelets, one red and one black, with white accents. Costume is available in sizes small, medium, and large.
Adult Harley Quinn Costume
This costume is made from 90% polyester and 10% spandex. Red velour jumpsuit is stretchy to provide a great fit and zips in the back. Features an alternating diamond pattern on arms and legs and a white foam scalloped collar. Includes a headpiece in a red and black Jester style with white pom poms. Costume also comes with red and black boots covers (one color for each foot) and a black polyfoam eye mask that fits with elastic. Comes in sizes extra small, small, medium, and large.
Harley Quinn Pajamas
These great pajamas make the perfect Harley Quinn costume as well as being comfy sleepwear. Made from 95% cotton and 5% spandex, pajama set comes with shirt and pants in sizes small, medium, and large.Done in red and black with an alternating Harlequin pattern. Simply add a headpiece, pigtails, and some great shoes or boots for an authentic look.
Sexy Harley Quinn Asylum Costume
This is a multi-colored costume made from 75% polyester, 20% vinyl, and 5% latex. Costume includes top, skirt, glovelets, choker, belt, headpiece, and eye mask. Comes in sizes extra small, small, medium, and large. Unlike most other costumes for Harley Quinn which are usually solely red and black, this one includes some white and purple as well. Shirt is short with a laced corset style. Pair with a blond wig and high black boots for a great Cosplay or Halloween look.
Blond Cosplay Wig with Pigtails
This is a good quality blond Cosplay wig featuring side swept bangs and two large ponytails. Makes a great finishing touch for any Harley Quinn costume. Pair with a red and black Harlequin style costume and black shoe or boots for an authentic Harley look.
Lace Up Side Zip Platform Boots
This is a great one inch platform boot with five inch heels. Boots have a side zippered opening as well as lave up front. Boots come in sizes 6, 7, 8, 9, and 10, and will fit a maximum calf size of 14 inches. These boots are perfect for pairing with any Harley Quinn Halloween or Cosplay costume for a great look.
DIY: Harley Quinn Costume
This step-by-step video tutorial uses two knit fabrics (one black, one red), lace, and elastic. The designer takes viewers through the process of creating the skirt and adding the elastic. Then she goes on to make the top. All pieces are done using simple folding and cutting techniques, combined with basic sewing. She adds a black shirt and tights underneath her costume for a great look.
[youtube]https://www.youtube.com/watch?v=TnxvotifgMs[/youtube]
Harley Quinn Makeup Tutorial
To really make your Harley Quinn Halloween or Cosplay costume pop, follow this makeup tutorial to create the ultimate super-villain look. Video takes you through the step-by-step process of concealing the eyebrows, laying a foundation, applying a white foundation, and applying powder to create the pale white skin. She then goes on to create dramatic makeup effects on the eyes and lips using various eye shadow and liner techniques. She then applies false eyelashes to complete the eyes.
She goes on to actually creating the Harley Quinn mask using makeup instead of actually wearing a mask. The step-by-step process is shown in detail, making it easy to watch and follow along. She then applies a bit of blush and then begins the process of creating the dramatic lip effect.
[youtube]https://www.youtube.com/watch?v=toWitQIIyss[/youtube]
Harley Quinn Character Hat
This is a 100% polyester hat that is half red and half black. Features white pom poms on each end of this Jester style hat. Hat comes with attached black eye mask that can be worn either around the eyes or up on the hat itself. Make the perfect accessory when wearing a Harley Quinn costume that does not include a headpiece.
Harley Quinn Knee High Socks
These cute socks are made from cotton and are a once size fits most. Professionally embroidered with faux laces, these socks make a great addition to any short Harley Quinn dress or skirt costume. Pair with black heels for a great look.
Cosplay Extraordinaire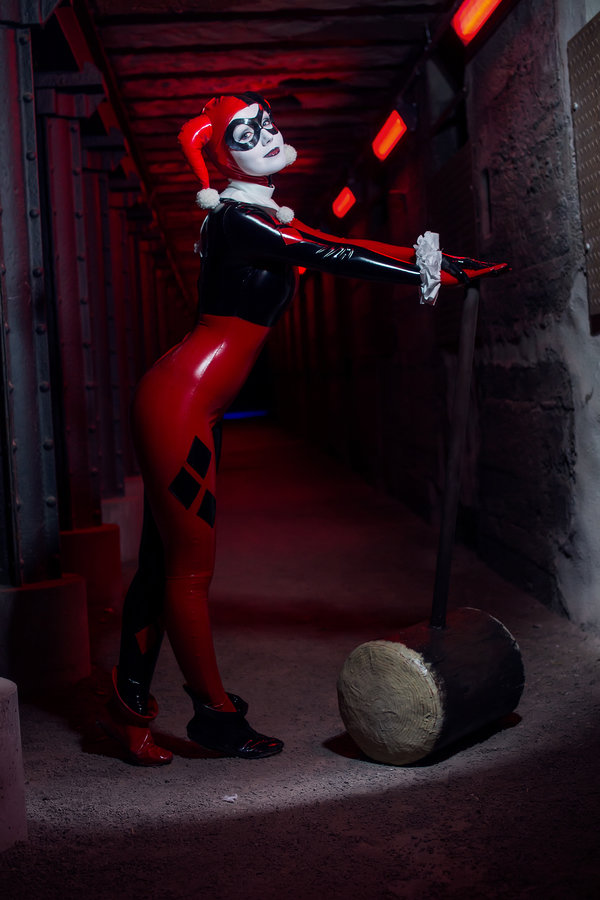 This cosplay is by Lie-Chee on Deviant Art. This is only one of many images which can see by going there. It is great inspiration for you to do your own Harley Quinn.
More Harley Quinn Costumes and Accessories
 Harley Quinn

 Harley Quinn

 Harley Quinn

 Harley Quinn

 Inflatable Mallet

 Harley Quinn

 Girl's Costume

 Tween Costume

 Cosplay Costume

 Harley Quinn

 Bang Gun

 Harley Quinn

 Arkham Knight

 Plus Size

 Overbust Corset

 Socks Standard

 Jester Tights

 Charm Bracelet

 Junior T-shirt

 Cosplay Costume

 Striped Corset

 Harley Jester

 Cosplay Boots

 Underbust Corset

 Harlequinn

 Harleen Quinzel

 Scoop Neck

 Arkham City

 Red Wig

 Costume Hoodie

Harlequin and Harley Quinn Costumes
 Naughty Harlequin

 Arkham Knight

 Girls Harley

 Plus Size

 Court Jester

 Plus Size

 Boot Covers

 Harlequin Shoes

 Sexy Jokester

 Harley Costume

 Hoodie

 Thigh High

 Harlequin Wig

 'Bang' Gun

 Plus Size

++++++
This post is part of the Pinterest Party group Halloween Blog Hop. The other posts in the hop are listed below:
September
1 Paula Atwell  Gothic Lolita Dresses and Accessories
2 Kristen Carrasco Pumpkin Spice Truffles
3 Megan Burgess Chamberlin  3 Easy "Funkin" Pumpkin Makeovers
4 Corrinna Johnson Creepy Spider Ice Cream Sandwiches For Halloween
5 Sylvia Mayfield  Helpful Halloween Safety Tips With A Fun Halloween Quiz To Take
6  Jamie Dick Yonash  Costume Ideas for Sisters
7 Katy Mitchell  Pumpkin Cheesecake
8 Kori Tomelden – Origin of Halloween
9 Anjanette Young  Homemade Halloween Treat Bags
10 Linette Gerlach  Pumpkin Pie Ice Cream Recipe- Dairy Free
11 Tracey Jade Boyer  Graveyard Cake – The Perfect Finger Food!
12 Ashleigh Walls DIY Halloween Craft Ghost Button Decor
13 Katy Mitchell  Halloween Themed Shirts
14 Paula Atwell  Harley Quinn Cosplay Costumes  (me!)
15 Sylvia Mayfield How to Decorate Halloween Eyeball Cupcakes
16 Corrinna Johnson  Spooky & Cute Halloween Costumes Tween Girls Will Love To Wear
17 Linda Martin Halloween Origin History: Samhain and All Saints' Eve
(Visited 2,429 times, 1 visits today)