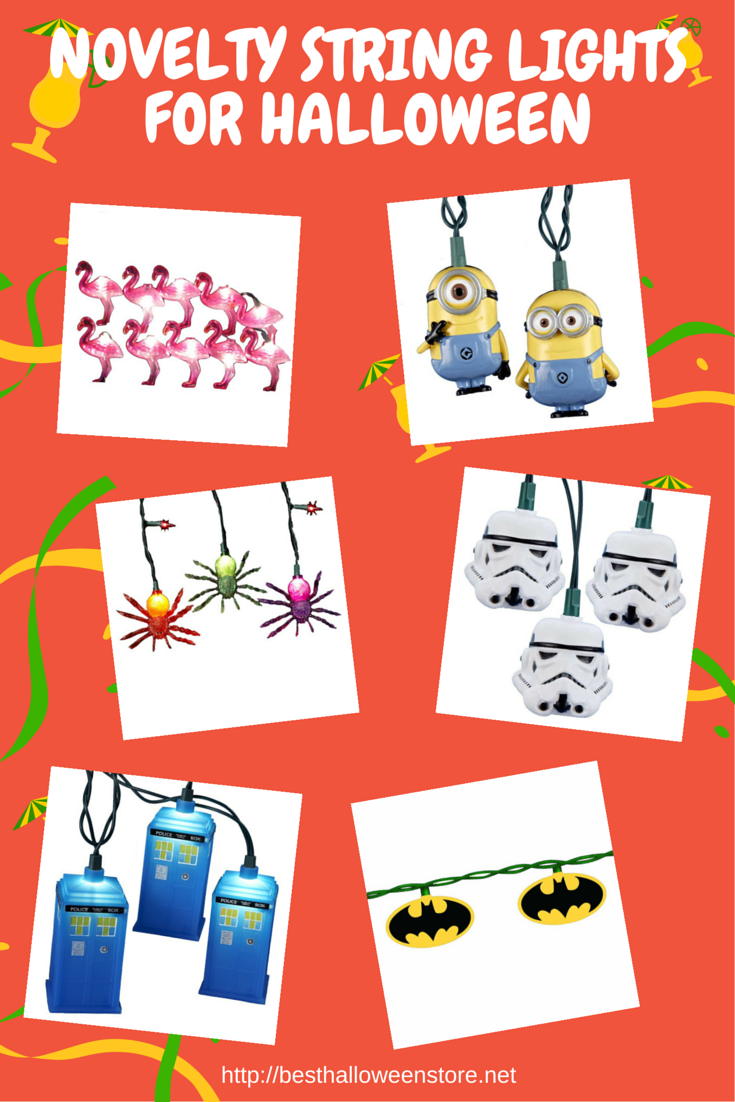 Updated for 2017
For over 65 years, Kurt Adler has been a leading importer of Holiday decorations. They offer a full line of holiday decorating items for all holidays, including Halloween. Here we take a look at some of the Kurt Adler Halloween lights and decor that will make your celebration even spookier.
22″ Pre-Lit Spooky Black Rattan Cat Halloween Yard Art Decoration
This is a gothic style cat posed in a position as if it were ready to pounce on something. Made for indoor or outdoor use. Made from rattan, metal, glass bulbs, and wire. Cat comes pre-lit with 35 lights, and has a 58 inch black lead cord. Has one plug with end connector that allows user to add more lighted decorations and join them together ( up to 210 watts). Product is UL listed.
22″ Pre-Lit Spooky Black Rattan Cat Yard Art

Set of 35 Purple, Green & Red Creepy Spider Halloween Icicle Lights
These spooky little spiders drop down at varying lengths of 19.5 inches, 16.5 inches, 28 inches, 14 inches, and 22 inches long. String features black wire and spiders in colors, green, purple, and orange. Each spider is spaced six inches from the other. Total cord length is 11 feet, with lighted portion being 6 feet long. Features end to end connectors to allow for connection of multiple light sets. If one bulb were to burn out, the remainder of the set will remain lit. Great for decorating either indoors or outdoors.
Purple, Green & Red Creepy Spider Icicle Lights

17.5″ Battery Operated LED Lighted Spooky Glittered Halloween House Table Top Decoration
This is a great Halloween decoration to display on a table or mantle. Spooky haunted looking house features a witch flying past a full moon, a vampire couple, pumpkins, headstones, and several creepy characters peering out the windows. For indoor use only. House is illuminated with LED lights at the base and uses three AA batteries for operation. On/off switch is on the right side for convenient use. Made from plastic, paper mache, and wood. Measures 17.5 inches high, by 17.5 inches wide, by 3.75 inches in diameter.
Lighted Spooky Halloween House Table Decoration

Battery Operated Acrylic LED Clear Skull Tablepiece
This is a clear skull that lights up using three 1.5v LR44 batteries, which are included. Lights give off an eerie glow. Skull would look great as part of a table centerpiece and measures 5.75 inches tall.
Set of 3 Peanuts The Great Pumpkin Lighted Gel Halloween Pathway Marker Stakes
Have Charlie Brown, Snoopy, and Linus help light the pathway to show trick-or-treaters to your door. Each character is peeking out from their own jack-o-lantern. Each stake comes pre-lit with 25 clear miniature lights. Design is one sided and pieces are connected and cannot be displayed separately. Made from metal, PVC, and color enhanced PVC gel.
Set of 3 Peanuts Lighted Marker Stakes

Novelty Halloween String Lights
Here is a fun selection of Kurt Adler novelty string lights designed for Halloween. They are adorable and so much fun when lit.
Skull Bubble Light Set

Spider Light Set

Lantern with Purple Web Light Set

Pumpkin Lantern Light Set

Antique Mummy with Pumpkin Light Set

Wine Bottle with Decal Light Set

Old Fashioned Light Set, Multicolor

LED Skull Light Set

White LED Ghost Light Set

Halloween PUMPKIN BUBBLE LIGHT SET

Spider in Mason Jar Light Set

Musical Skull Light Set

Football Light Set

Plastic Street Light Set

Walking Dead Walker Head Light Set

Novelty Halloween Lawn Stakes
Skeleton Lights Stake Set

Day of the Dead Wood Lawn Stakes

Adorable, Silly and Funny Novelty String Lights
During the rest of the year, you can light your home with all sorts of silly and fun novelty string lights for no reason except just because they are cool.
Indoor/Outdoor Pizza Light Set

Novelty Candy Light Set

Chili Pepper Light Set

Dragonfly Light Set

Tractor Light Set

Game of Thrones Shield Light Set

Old Fashioned Light Set

Sunflower Light Set

Brown Owl Light Set

Basketball Light Set

M and M's Light Set

Seashell Mini Light Set

Bud Light Beer Can Light Set

Diet Coke Can Light Set

Soccer Ball Light Set

Tropical Fish Light Set

White Owl Light Set

Beer Mug Light Set

Indoor/Outdoor Grape Light Set

Star Wars R2D2 Light Set

Guitar Light Set

Cow Indoor/Outdoor Light Set

Popsicle Light Set

Batman Light Set

Flamingo Light Set

Some of My Favorites
Doctor Who Tardis Light Set

Star Wars Storm Trooper Light Set

Scooby-Doo Mystery Machine Light Set

Stuart and Kevin Light Set

(Visited 557 times, 1 visits today)